For all of you sun worshippers out there, now is the time to indulge in a little beachside fun! Whether the coast is just a casual walk away or you're plotting the romantic destination getaway of a lifetime, few spots are more alluring than the beach. So go ahead: grab your fave pushup swimsuit, a set of beach-ready minimalist aesthetic clothes, and a bottle of something bubbly. Then, read on for a few of our most beloved ideas for the perfect beach date!
1. Beach Picnic
Few dates are more romantic than the classic beach picnic. Pack a large beach blanket (or a small one if you're down to snuggle), along with some easy-to-travel-with snacks and drinks. Add the perfect finishing touch with a scented candle or unexpected vase of flowers. To make sure everything goes off without a hitch, bring something to weigh down the corners of the blanket. Definitely also bring along with some sunscreen to make sure you're not feeling your sun exposure the next day! We'd hate for the feelings of giddiness to be killed off because of an awful sunburn…
2. A Midnight Swim
For the adventurous types, an exciting midnight swim is a perfect way to create an unforgettable memory. Naturally, you'll need an amazing set of swimwear and an effortless coverup (we trust the fine folks at Vogue to help us source our favorite beach date attire). Score extra points with a waterproof crossbody bag to stow the essentials and keep them sand-free. Be sure to bring along a pair of towels for the end of the date.
3. Art & Soul
For a creative date, pack a couple of canvases or sketch pads, as well as some paints or pencils, and head to the beach. The romantic environs will provide the ideal setting for you to sketch the seascape (or each other!) and will automatically leave you with an amazing souvenir of the date. To switch things up even more, start your piece of art and switch with your date every five or so minutes — the results can be anything from hilarious to super abstract!
4. Oceanside Hike
For active romantics, an oceanside hike offers the perfect blend of physical activity, stellar views, and an easygoing way to spend time with each other. Dressing in layers is ideal (think swimsuit plus a loose top and hiking boots). To complete the occasion, don't forget to pack a camera and a mid-trail snack!
5. Set Sail
Craving a bit of privacy? Opt for a sailing excursion. This is one of our top picks for a romantic water-based date activity – and enjoy the waves together. If you're not a seasoned sailing aficionado, you can still have fun with a chartered outing or a harbor cruise.
6. Stargazing
If your date vibe tends toward minimal planning and maximum romance, stargazing on the beach might be perfect. Bring along a telescope to up the ante, or simply lie back and enjoy the view. Try spot as many constellations as you can.
7. Cocktails at Sunset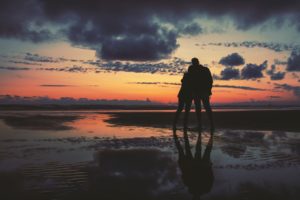 From beach bonfires to ocean-view balconies, a drink with a view of the sun going down is a recipe for a classic romantic date. If you opt for a bottle of something on the sand, just be sure to check out the local beach ordinances for open container laws. And of course, get the details on your local sunset time to plan accordingly. There are many cheesy date ideas out there, but this is one that will never die.
Now that you have a few great ideas for a lovely beach date, read on for essentials to having a