This summer will undoubtedly be one of the most novel of our lifetimes. With beach restrictions in place and a good portion of the population working from home, it's hard to picture what a random night in July 2020 will look like. While public spaces will be curated to comply with CDC rules, here are some backyard family fun ideas to safely celebrate summer 2020.
1. Elaborate Backyard Movie Night for the Family

Heading to a concert or a conventional movie theater may not be in the cards for several months due to COVID-19. Drive-in movie theaters have recently proposed opening, as social distancing coincides with the typical drive-in set up. The drive-in movie theater model can be achieved at home through the use of a projector, a simple white sheet hung from a fence or two trees, as well as however many cushions or seats you see fit. Additionally, you might find this DIY outdoor movie screen made from PVC pipe to be the right fit for your backyard.
Fun Drive-In Decor

Cardboard Cars
Set up an appointed craft corner in the backyard equipped with drop cloths, markers, paints, and large cardboard boxes. With the help of grown ups, kids can create their very own cardboard cars to sit in while the movie plays. This will not only keep them busy before nightfall, but will also keep them socially distanced while watching the movie.
I recommend pre-making the cars for younger children, so that all they have to do is decorate them!
Exciting Treats & Refreshments for the Whole Family
Popcorn bar
A sweet and salty spread of pretzels, gummy bears, M&M's, and a variety of seasonings can be placed in little containers and added to personalized popcorn bags for the whole family to create their own popcorn creations.
Shirley Temple Mocktail
Little Miss Hollywood herself had a non-alcoholic drink named after her at the height of her career. In an interview with NPR in 1986, Miss Temple expressed that she wasn't a big fan of the red drink made in her honor. She stated that it was much too sweet for her liking. Regardless, Shirley Temples are enjoyed far and wide by children and adults alike.
Ingredients
4-6 oz. Sprite, 7-Up, or Ginger Ale
1 tbs. grenadine
Garnish: maraschino cherries
The Marilyn Monroe Cocktail
For the adults, a refreshing cocktail inspired by The Golden Age of Hollywood is a nice addition to a warm summer activity of yesteryear. Enter, The Marilyn Monroe Cocktail, which pays homage to her love of champagne and the color pink.
Ingredients
4 oz. champagne
1 oz. apple brandy
1 tsp. grenadine
Serve in a champagne flute with two cherries on a stick.
2. All in the Family for Whimsical Glow-in-the-Dark Backyard Pool Party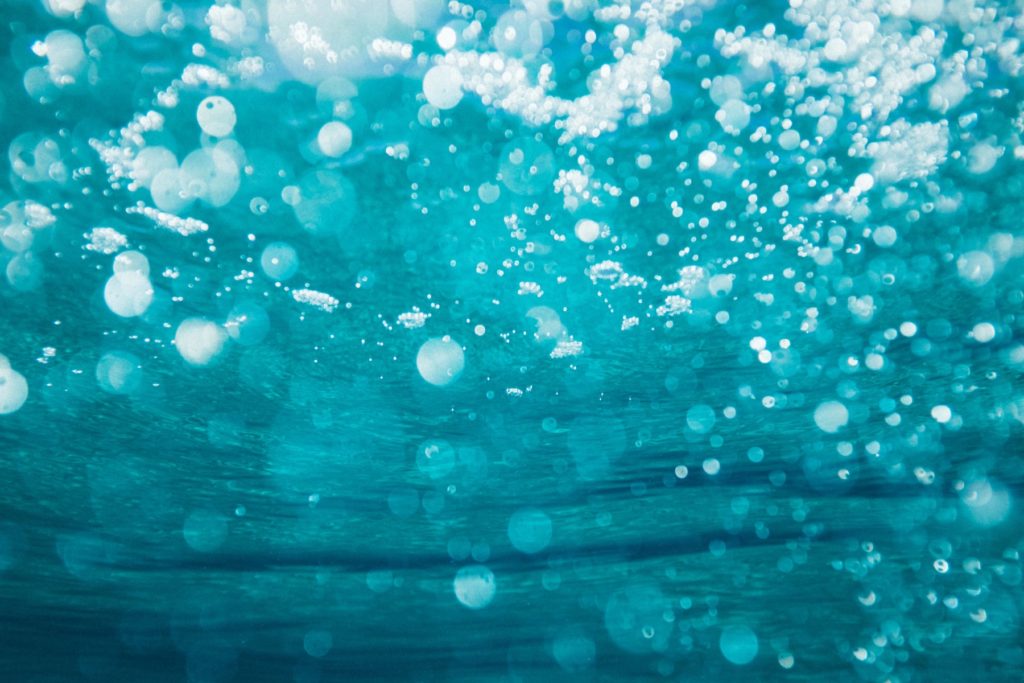 There's something so alluring about night swimming. Enhance your nighttime dip with things that light up the night, and your pool.
Glowsource has created a whole line of products that bring your glow-in-the-dark pool party to life. Here are a few of our favorites to ensure you pool's luminescence:
Some Fun Ideas for Your Family's Midsummer Shimmer

Glow-in-the-Dark Volleyball
Volleyball is always a summer favorite. You can enhance any pool volleyball net with these 14.8′ LED Waterproof String Lights. Additionally, for all over your glowing bump, set, and spiking needs, Glowsource makes LED beach balls in several shapes and sizes.

Glow Tie-Dye
Making tie dye shirts reminds me of tie dye Fridays at summer camp. Little did I know, you can make Tie-Dye glow-in-the-dark with one additional step.
First, collect all of your family's white shirts, towels, pillow cases, etc that could use a little color. The Tulip Tie-Dye Party Kit comes with instructions along with everything you need to tie dye an upwards of 36 projects. Additionally, this kit even comes with a guide for doing a variety of tie-dye designs. In order to make your projects glow, you must use Tulip's ColorShot Natural Glow. Be sure to spray this paint after your projects have sat for the recommended amount of time and have been washed and hung out to dry.
Enticing Luminescent Treats & Refreshments
Glow-in-the-Dark Jello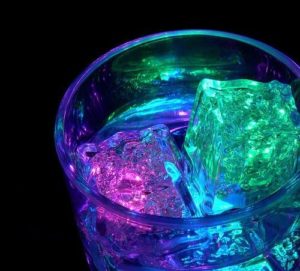 Any Jello can glow-in-the-dark by substituting regular water for tonic water. Tonic water has a fluorescent substance in it called quinine. Quinine absorbs UV light and re-emits it under a blacklight. For a more prominent glow, use lighter-colored jellos.
Additionally, filling up an ice cube trade with tonic water and popping it into the freezer overnight can bring a distinct glow to any drink under blacklight.
Neon Gummy Worm Punch
Perhaps the most luminescent candy to hit the aisle are neon gummy worms. Adding these creepy crawlers as a garnish to any drink adds a distinct brightness. This Neon Gummy Worm Punch may look frightening, but tastes oh-so-good.
Ingredients
Green Gatorade
Sprite (or 7-Up)
Neon Gummy Worms (found in the candy isle at any grocery store)
Directions
Fill your Pitcher 1/2 way up with ice
Place some neon gummy worms over the ice
Pour equal parts of green Gatorade and Sprite over the worms
Add more gummy worms to the top
3. Family Backyard Campground as Respite

Campgrounds may not be open until well into the summer. Luckily, the ambience and stargazing can easily be recreated in our very own backyards. You can simply corral the whole family to set up the fun by pitching a tent or two after stringing lights from the trees in your backyard. A campfire can be set up just beyond the tents for keeping warm, telling ghost stories, and making the perfect s'mores.
Activities

Organize a Treasure Hunt
Hide fake gold doubloons and various pieces of "treasure" throughout the backyard before the kids come outside. Bury or hide a small treasure chest in a conspicuous area of the backyard. Gently guide the children to the treasure chest's hiding spot once they've found a fair amount of the scattered "treasure" throughout the yard.
Prior to the hunt, set out old brown paper bags cut into sizable rectangles on a table. Have the children use these as canvases to draw their very own treasure maps. Instruct them to outline different landmarks in the backyard (ie. trees, tents, fences, etc) using markers, stickers, and paint. Urge them to put an X wherever they think the treasure chest is buried. For added fun, have a grown up dress as a pirate to keep the children engaged in the treasure hunt.
Backyard Recreational Relay Race for Family Fun
Set up a relay race in the backyard with prizes for those involved. Use a variety of odds and ends to test everyone's endurance. Your backyard relay race can be made as complex as you see fit for your entire family to have superior fun.
Use any combination of the following:
Use pool noodles lined up in a row for participants to crawl under.
Set up an area with cones and demarcate a distance from which participants can throw hula hoops at them. First one to get three in a row may go to the next station.
Give each participant 2 sheets of newspaper. They must race from one marked point to another and back stepping only on their newspapers.
Set up two long ropes parallel to one another. Have participants line up, single file to jump over both ropes, and return to the end of the line for the next round. Lay ropes close together for the first round and gradually increase the space between them after each round.
Here are some more ideas for relay race stations.
Enjoyable Treats & Refreshments for Backyard Family Camp-Out
All Things BBQ
Camping in your own backyard begs for outdoor cooking. Heat up the grill and make the usual: burgers, hot dogs, and corn on the cob.
Rainbow Grilled Veggie Kabobs
A great addition to any protein-centric grill session are veggie kabobs. I love adding an assortment of seasonal vegetables marinaded in a healthy sauce. This recipe for Rainbow Grilled Veggie Kabobs will add color to the blandest of paper plates this summer.
Ingredients
AGAVE BALSAMIC SAUCE:
½ cup of agave syrup
½ cup balsamic vinegar
¼ teaspoon crushed red pepper
½ teaspoon black pepper
¼ teaspoon granulated garlic
½ teaspoon granulated onion
½ teaspoon salt
VEGGIE SKEWERS:
2 small zucchini (1.5-2″ diameter), cut into 1/2 inch coins
2 small yellow squash or golden zucchini (1.5-2″ diameter), cut into 1/2 inch coins
1 small eggplant, cut into 1.5″x1.5″x1/2″ thick pieces
2 orange bell peppers, ends and center removed, cut into 1.5″ squares.
1 red onion, peeled and cut in half. Then cut each half into fourths.
1 pint of grape or cherry tomatoes, washed
1 pound baby portobello mushrooms, washed and de-stemmed
1/2 teaspoon salt
1/2 teaspoon ground pepper
high-quality cooking spray
For cooking instructions, check out the recipe here.
S'mores Hot Chocolate
As the night grows colder, your family can treat itself to a fun camping twist on a warm classic in your very own backyard campground. To make a s'mores hot chocolate, you'll need all of the ingredients in, you guessed it, s'mores, along with a few additional items.
Ingredients
2

 

cups

 

milk

1

 

cup

 

water 

(or sub more milk)

¼

 

cup

 

cocoa powder

2

 

Tbsp

 

light chocolate syrup

2

 

Tbsp

 

sugar

1-2 Tbsp sugar

1

 

pinch

 

salt

Graham crackers

 

(crushed // for lining rim)

½

 

cup

 

marshmallows 
For full instructions, view here.
Fun summer memories can be made everywhere you go with a little planning and some good company. Here's to Backyard Family Fun in Summer 2020!