With spring bursting out all around us now, and with the lazy summer months right on its tail, our friends at Camper Cocktails have brought us another amazing drink to sip under your favorite Beach Brella. It's a cool, ultra refreshing drink that uses lots fresh ingredients and will definitely add some citrusy zest to your springtime beverage routine.
Their Smoky Serrano Paloma drink recipe features freshly sliced Serrano pepper, fresh-squeezed grapefruit juice, lime juice, agave and Oaxacan Mezcal. Oh yea! The serrano pepper packs the heat, while the mescal adds the smoky flavor. The fresh citrus juices deliver just the right amount of zip to keep this drink super refreshing. Admit it. I know you want one NOW!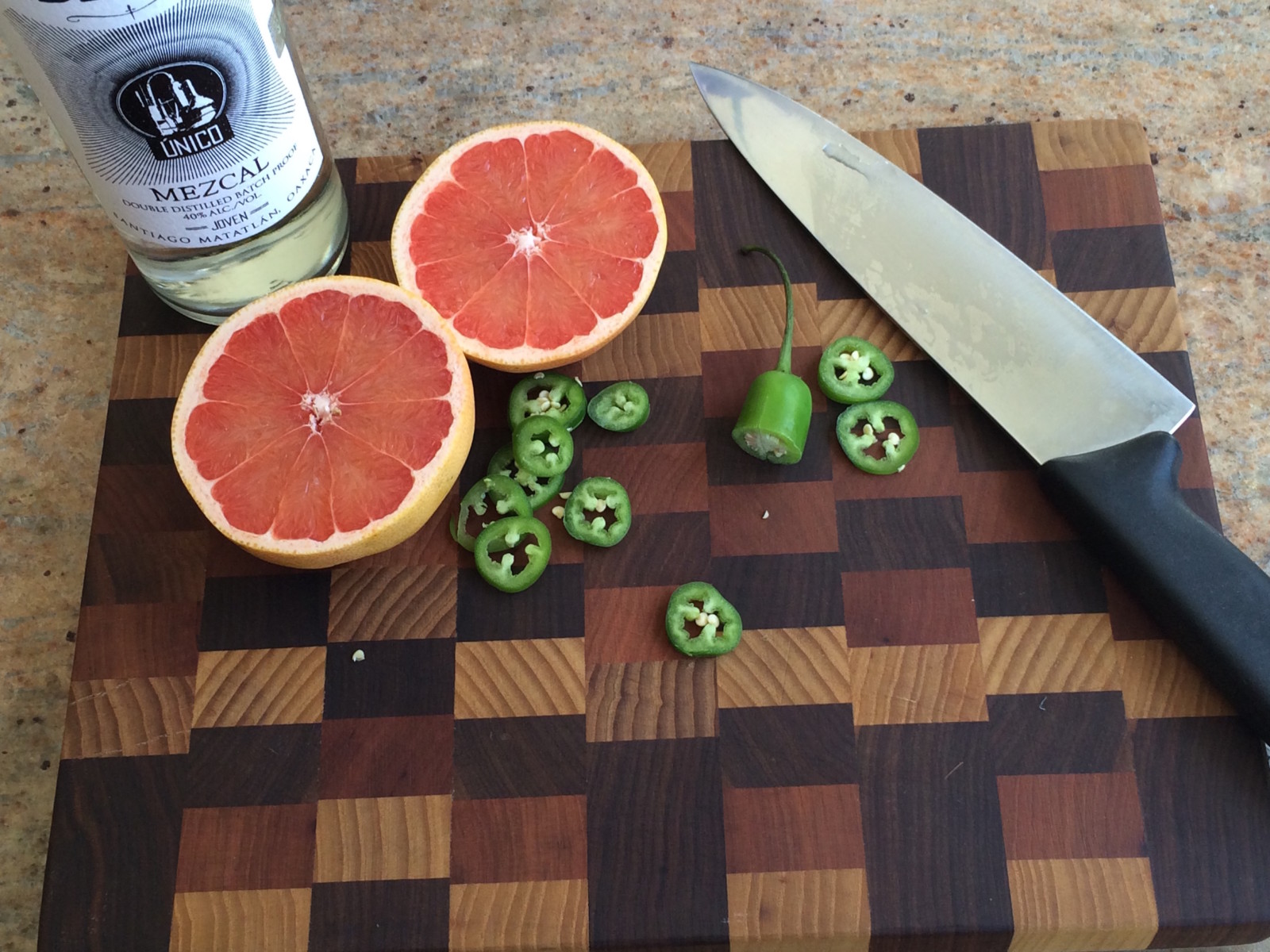 I personally love mescal, but if that's not your thing, no problem! Simply substitute your favorite blanco or reposed tequila. Or even go cold turkey and leave out the booze. You will not get as much smoky flavor but the drink is still fantastic! Keep this in your back pocket for Cinco de Mayo… just around the corner! Ole! This fun libation is like the margarita's slightly more exotic, spicy friend!! Salud to Summer!
Smoky Serrano Paloma
Makes 1 drink
Ingredients
Salt (to rim glass)
4-5 thin slices of serrano pepper
1 ¼ oz. freshly squeezed grapefruit juice
¼ oz. freshly squeezed lime juice
½ tsp. agave nectar
2 oz. Oaxacan mezcal
1 oz. club soda
lime wheel, grapefruit wheel or Serrano pepper top to garnish (optional)
Instructions:
Rub rim of 12 oz. glass with lime or grapefruit wedge and coat with salt. Set aside.
In a shaker combine serrano pepper, juices, agave and mezcal. Fill shaker ¾ full with ice and shake vigorously to thoroughly chill drink and infuse the serrano flavor.
Fill the salt-rimmed glass with fresh ice and double strain the contents of the shaker into the glass. Top with 1 oz. of club soda. Garnish with either a citrus wheel or the top of a Serrano pepper and enjoy.
Pair it with a cool beach breeze and an Avalon Beach Brella….Sink your toes in the sand….sit back… and sip! Summer here we come!