Have a blast this St. Patrick's Day with a party at your place! Here are a few tips and tricks to make sure you throw a fun and festive bash! 
Go with the green theme
This is an obvious one, but there are more tasteful ways to incorporate green into your decorations than you know!  
Green can be an obtrusive color so use it in your accents.  Instead of using a table cloth that is green, grab one that is off white and pair it with a green burlap table runner. Another great way to add some green is through the plates, bowls, and napkins. Look online for some festive yet fashionable green gingham disposables to really make your layout come together. 
Rather than using food dyes for your meals, go with naturally green items.  This is a great way to include more veggies in your spread! For snacks go with different dips.  A few to consider are guacamole, spinach and artichoke dip, and salsa verde. For a main dish go with zucchini noodles topped with pesto or a spinach salad with green bell peppers and whatever other mix-ins you'd like!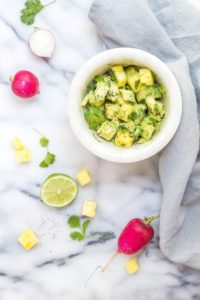 To keep your guests hydrated set out pitchers of water but give it a touch of green by adding in cucumber slices to give the water a nice fresh taste.  
Provide some shade for your guests to give them a break from the sun, grab a few green decorative beach umbrellas and place them throughout your yard strategically. Then when day turns to night, be prepared with some green candles to keep the St. Patrick's Day vibe going!
Add some w
hite and orange
When in doubt bust out some white and orange accents to compliment the green. This will really bring the colors of Ireland into your backyard. An easy way to bring in orange and white is through food.  
Pop some popcorn and season it with olive oil and sea salt to add some white for a nice low calorie snack that everyone can enjoy!
For something orange, slice up some oranges and place them in a bowl for snacking.  If you're looking to have something a little more filling, go with roasted turmeric cauliflower. The turmeric gives it a nice orange-yellow color that will brighten up your spread! 

Traditional drinks
To really make your St. Patrick's Day party festive, have some traditional Irish drinks.  
For the alcoholic beverages go with some Irish beers like Smithwick's or Guinness and it wouldn't be a St. Patrick's Day Party without an Irish coffee. All you need for an Irish coffee is coffee, brown sugar, Irish whiskey, and heavy cream. For an easier recipe you can sub everything but the coffee with Baileys. For your vegan guests, reach for coconut whipped cream instead of heavy cream.  
A non-alcoholic beverage that everyone can enjoy is an Irish rose. For one serving of an Irish rose all you need is 2 ounces of cherry juice, 2 ounces of lemon juice, and 6 ounces of soda water. Since presentation is always important, throw in some lemon slices and a cherry.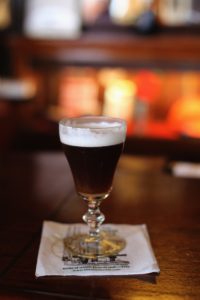 Have a Contest
There are so many creative St. Patrick's Day t-shirts out there.  Add a fun game to your party by having a contest to see who has the best t-shirt. Set out little pieces of paper and a bowl and let people write down their vote throughout the party and announce the winner at the end of the night! 
Enjoy your party this St. Patrick's and if it ends early, check out these hidden gems in Laguna Beach to finish off your night right!