Looking Good on the Beach
Looking good on the beach takes the right fit and BeachCandy Swimwear is an expert in all body shapes. The bikini is a fashion statement and it should fit good and also fit your personality.  Therefore taking time to put together a fun and unique beach outfit can be fun and rewarding. Which, by the way, can include a complimentary  beach umbrella. While it is cold in the east coast , we  southern Californians can still enjoy sitting beachside in bikinis mid-winter. Even if you're a local, frequent beach goer or looking to travel to the west coast to escape the cold and catch some rays, you can always relax in style.
BeachCandy Swimwear is a crowd favorite; their customizable, quality suits mix luxurious fabrics with comfortable styles to keep you looking good and feeling great. Already have a BeachCandy suit, but no protection against harsh UV rays? Protect your skin in style and add a matching BeachBrella, a line of premium, super chic umbrellas. They are  equipped with UV protection and to-die-for custom designed patterns, they're the obvious choice for any day at the beach!
Love the idea, but not sure how to style a BeachBrella with a suit from BeachCandy Swimwear? We have you covered. Here are some perfect pairs of brellas and bikinis that look great individually, but jaw-dropping when paired together!
Fun and Whimsical
Looking to escape the winter-y color palette? Brighten up your wardrobe and beach attire by pairing BeachCandy Swimwear's Victoria Cut Out Bottoms & matching top with BeachBrella's Thalia Beach Umbrella. This will be an eye catching day at the beach! All that's left is a tan and a refreshing cocktail to feel summery during winter in California!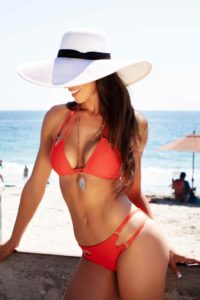 South of the Border
Feeling warm and joyous? You'll glow like the sun in Beachcandy's Bling Bikini Set; embedded with Swarovski crystals and fine, gold fabric, you'll turn heads as you lay in the sand. Compliment this fun swimsuit with BeachBrella's Las Brisas Beach Umbrella; the vibrant stripes and warm tones will compliment the gold 'kini, as well as every other suit in your wardrobe. All that's left to do is sip on a margarita and watch the golden sunset!
Ocean Blue Bikini
Love the color of the ocean? By all means match your beach attire to your mood and pair BeachCandy Swimwear's Navy Long Sleeve Cover Up with the Push Up Bikini Top in navy to look like an oceanic goddess! To complete the look, pitch BeachBrella's Seaview Beach Umbrella into the sand; the hints of navy will compliment your ensemble, and ripple, wave-like designs will tie everything together!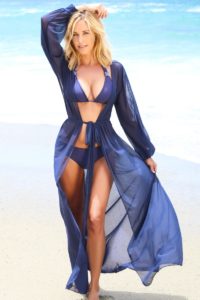 So, wether you're looking for a fresh, top of the line swimsuit or a vibrant umbrella, BeachCandy Swimwear and BeachBrella have you covered with the most iconic swimwear/umbrella duos!