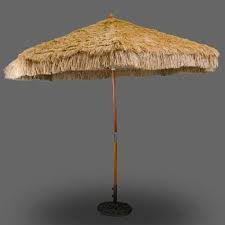 The Inspiration for a Chic Beach Umbrella
When I was first taking my two little boys to the beach every day, we would always head to our favorite spot: Pearl Street. It's a tiny cove with a beautiful rock arch that leads to amazing tide pools and a well-known blow hole. The waves were fun for little kids. Many of us beach bum moms met there everyday to hang out and watch them play.
One day, I found this tiki-style beach umbrella at our local market. I think I paid ten bucks for it. Even though it got ratty over the years, it was a landmark for friends to spot me on the beach.
The Beginning of Beach Brella
Now some 20 years later, both my boys are now are well into young adulthood. I still carry my tiki umbrella to the beach, but it's in really sad shape. A lot of the plastic fringe has fallen off, and it's missing its original luster. I decided it was time for a new beach umbrella.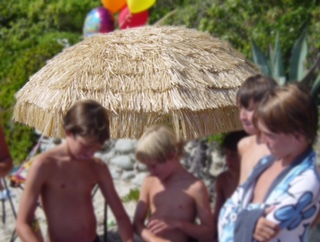 I poked around Laguna and other nearby coastal cities, and found nothing. They didn't exist. At least not what I was looking for. I wanted a cute, chic umbrella with a fun pattern that would stand out among the rest.
This was when my entrepreneurial spirit kicked in. I was excited to discover something that didn't exist and find a way to spin it into a business. I did that with my deli and homemade soup business in the '80s, and then my Rhythm Ride spin studio and beach cottage vacation rentals in the '90s up until today.
I started searching the L.A. garment district for the coolest fabrics and decorative fringe that I could find. Then I found a fun graphic print and assembled my first Beach Brella prototype. Within a few months, I developed my logo, found a creative partner and launched our beach umbrella brand.
I'm excited to share with you this journey to celebrate the California lifestyle. To me, my Beach Brellas are a reflection of what I value most in life—enjoying a healthy, balanced life where we work hard but always make time to put our toes in the sand.