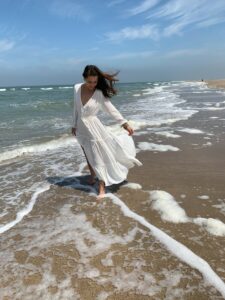 We all dream of warm, golden sands paired with the ocean's ever-lapping waves. For 2023, fashion trends that bring you the beach vibes you crave are excitingly familiar, yet re-imagined to offer fresh takes on beachy classics. Wherever the beach of your dreams is, these 7 must-have 2023 beach vibe trends will accompany you in style. So, start making that packing list!
1.  Soft, Comfortable Beach Vibe Dressing
Packing for your beach getaway gets easier when you choose classic coastal chic, expertly constructed from tactile fabrics. 2023 fashion trends find a prominent place for touchable, luxury fabrics that coddle you in comfort. Clean, classic lines are favored this year, with fundamental fashion casuals taking center stage.
From men's short-sleeve shirts cut for casual elegance to women's luxury loungewear, soft fabric is key to capturing the freedom of the beach. Fabrics you can pack without sweating the wrinkles are bound to find a permanent home in your suitcase.
2.  Footloose 2023 Fashion Trends
Go get a pedicure, then slip into a pair of sandals that cover all your bases. From spun-sugar sand to cobblestone streets, you'll need all-terrain footwear that does more than look good.
Beach vibe sandals should take you wherever you want to go, so make sure you've got the right pair, offering protection from blazing hot pavement and sand, while modeling a Boho chic edge. Bonus points for good support because you'll be doing some exploring in your beach-inspired shoes!
3.  No Tiny Sunglasses Allowed
Just when you thought tiny sunglasses were "over", they return among the flurry of 2023 fashion trends. While they may look edgy, they're not providing the eye protection you need in destinations closer to the Equator, where the sun is more intense.
Go for drama that protects while adding glamor. Pair a modern cat eye look with a huge straw hat and bring a little Hollywood chic to the beach with you. Men can renew their bromance with classic, mirrored Aviator-style shades. In either case, choose sunglasses with polarized lenses to protect your eyes because taking care of yourself is always in fashion.
4.  2023 Fashion Trends for Junior Jetsetters
There's nothing more adaptable to a beach-inspired day with your junior fashionista than sweet summer dresses. "Bohocore" is the keyword here. Flowing, carefree looks that speak of wanderlust are purpose-built for an adventure with your youngster. Bohemian plus beach, equals timeless style that your little one will love to wear.
Think of rich textures in fringe and other pleasing details that highlight trends for 2023's spring and summer fashion in children's wear. Take your little one out for a special evening spent dining on local delicacies. Or how about a mommy (or daddy) and daughter promenade down the street for some beach-side shopping? Special occasions are made even more memorable with a special outfit that your little one will adore far beyond the event. Make your day together one to remember forever and gift her a special dress that she will feel like a princess in.
   5. Sheer Ecstasy
The naked dress appears to be busting into 2023 fashion trends. But if you're not willing to bare it all – even at the beach – never fear. Sheer, flowing fabric is right at home under a palapa.  Look for men's or women's sheer caftans or coverups, adding elegance to life at the beach or on a romantic night out together.
Embrace the continuing trend towards sheers as part of your Bohocore, beachy wardrobe. Show the world how they're worn, in bright sheers that answer the 2023 trend toward "dopamine dressing" – which is all about joy! Boost your mood with vibrant colors in breezy sheers this spring.
   6. Chic, Luxe Retreat Stays
It's been a long couple of years of confinement, so it's no surprise that many have set their sights on getting away from it all. Many travelers are opting to upgrade to luxe retreats that welcome them with spalike, extravagant luxury. With private chefs, cleaning staff, and endless ocean vistas, these jewel-like properties need to be experienced to be believed.
Travel with friends or as a family. Travel solo. Go for a week or for a while. After the long confinement, the glory of a distant beach beckons.  With your suitcase packed with 2023 fashion trends you're going in style, so why not go all the way?
   7. Maximalist Touches
2023 fashion trends include many elements of enduring Bohemian style. Fringe, tassels, ruching, lace, and sheer, flowing fabrics are all part of that. But on the outside edge of Bohocore is the glitz of sequins and the surprise of feathers.
Feathers and sequins may not sound beachy but think again. When night falls, a shower of sequins on the neckline of a flowing caftan or a flourish of feathers on a wristlet purse add fun to any ensemble. Don't hold back. Take your maximalist soul to the beach because what's more "extra" than vacationing in paradise?