3 Great Laguna Beach Beaches for 3 Unique Reasons
I LOVE Laguna Beach! It has such beautiful beaches, many of which are tucked away in scenic rocky coves. When I decided to write about them, I was trying to pick the "top three beaches" for hanging out under your favorite beach umbrella, but I couldn't because out of the seven miles of shoreline and 27 beaches and coves, I wasn't able to choose. So I got to thinking why I head to certain beaches over others.
Oak Street Beach
Oak Street Beach is a well known locals beach. The reason for this beach being a local favorite…you just head up those stairs and into the "Hip" District.  All the local shops and eateries along south Pacific Coast Highway are here at your fingertips. You have Laguna Surf and Sport right across the street; a great place to buy any and all your sun- and surf-related gear! At my favorite "girl" shop, "The Shop," I get all my clothing and you can get a Beachbrella there, too. Great places for grub? Grab amazing fish tacos at Wahoo's or gourmet pizza at Gina's Pizza. Project Juice is my new favorite, with fresh cold-pressed juices and organic coffee. Oh, and before the beach, you can get a good sweat on at my spin studio RhythmRide. Another reason I love this beach: It has it all…
Thalia Street Beach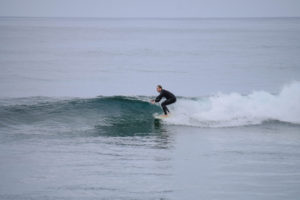 Thalia Street Beach is a fun surf beach. In the summer time, this local break will have lots of surfers enjoying the waves. There are also many skim boarders. Skim boarding is an art form using a smaller board, and Laguna Beach is one of the best places in the world for this sport. The skimmer throws the board along the shoreline in super shallow water, jumps on it and skims the sand into an oncoming wave. I grab a juice, settle on my towel under my BeachBrella, and can be totally entertained for hours by the talent of the local kids. As a mom with two boys, I spent many divinely long days here watching them play.
Main Beach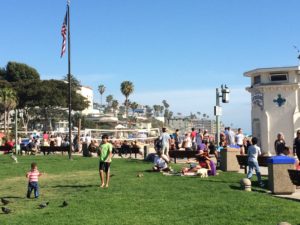 The famous Main Beach of Laguna…I picked this beach because it is one of the best all around people-watching beaches. Besides watching people hang out here from all over the world, there is also a meandering boardwalk, beach volleyball and basketball to enjoy.  And of course, there's the iconic lifeguard tower. I would suggest grabbing a lunch from Zinc Cafe , a vegetarian restaurant with alfresco dining, and head down to main beach. Zinc has great sandwiches and salads to grab and go on there deli side. There are plenty of places to post up your BeachBrella on Main Beach besides the beach: Benches along the wooden boardwalk or the grassy area under the trees.
No matter which beach you choose, just pop up your BreachBrella and put your toes in the sand……and relax!