Best Beach Umbrellas
I doubt you'll come across many people who don't enjoy going to the beach. Around the world people pack up their beach bags, load their chairs and umbrellas into the car and head to the beach every day. And each day somebody struggles with a beach umbrella, so what does make the best beach umbrella? In a market saturated with the same basic beach umbrellas, it can be hard to find one that suits your style and meets your expectations for quality. Luckily, we're here to break down what makes the best beach umbrella, and where you can find it!
Beach Umbrellas Carrying Case

The first part of your beach umbrella experience is getting from your car to the beach. With children, beach chairs, bags, towels, phones, and keys this could be difficult. When you're buying your umbrella, look for one that comes equipped with a quality carrying case. You want your umbrella to endure years of beach memories so make sure the case was created with quality fabric, the kind that doesn't rip after two uses (we've all been here it's okay). Be sure to chose a bag with a sturdy strap that can support anything you want to carry.
Another bonus, finding a bag with additional pockets to store all of those miscellaneous necessitates you don't really want to think about at the beach (ahem, yes, your phone and those pesky car keys, BYE!) Your umbrella can do so much more than give you a shady place to rest. When you're investing in a quality umbrella you want to make sure it's doing the absolute most for you!
Easy to Set Up
Once you've made it to the beach you're ready to relax and have some fun in the sand, not spend all day setting up your station. Picking an umbrella that's easy to set
up is a must! We've all seen umbrellas that screw into the sand and probably wondered if it actually helps. Sorry to be the bearer of bad news, but that screw bottom actually limits you on how far you can anchor your umbrella into the sand. An umbrella that offers a pointed bottom gives you the freedom to choose how deep or shallow
you'd like to go, and it also lets you choose any spot on the beach, no matter what kind of sand you're working with.
Once you've got your pole secured, the less you have to do the better. We recommend choosing an option that comes in two pieces so you only have one more step to go! The more pieces and attachments included, the more work you'll need to do to put it all together, who wants that?? It's safe to say that a simple umbrella design is best if you want to spend less time getting mad and more time in the sand (and shade).
 UV Protection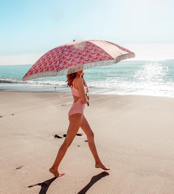 Why would you get an umbrella that only provides shade? Now that you're on that sandy beach, you're at a major risk for sun damage. Our skin is delicate and any unprotected sun exposure can lead to a breakdown of collagen in your skin, increased sun pigmentation spots, and dry parched skin. None of those sound fun, so why not prevent them every chance you get?
UV rays are powerful enough to penetrate through fabrics like your clothing and even the fabric of your favorite beach umbrella. Don't just get in the shade, get out of the sun by using an umbrella that features UV protection. Each BeachBRELLA is made with 100% UV blocking fabric so you can spend more time enjoying your beach day and less time worrying about skin cancerous rays.
Wind Resistant Beach Umbrellas
One of the biggest downfalls of our beloved coast is the wind. So when purchasing a beach umbrella, you want something that won't blow over at the first gust. We're here to break down what works and what doesn't when it comes to a wind resistant umbrella. The biggest thing to consider is the weight of the overall umbrella and the weight of the fabric. The lighter the umbrella, the better it will fair in windy conditions. Heavy options are only hindered by their weight; most will blow over the first chance they get because they weren't created to withstand the force of a strong gust.
Lightweight umbrellas allow the wind to pass through and around them, leaving them standing all day long! So what's up with wind vents, do we need them or not? It's simple, the heavier your fabric, the more you'll need something for the wind to move through. If you're choosing a heavy product, wind vents are the way to go, but if you'd like to use a lightweight umbrella then forget them!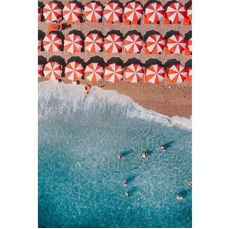 Do You Really Need A Sand Anchor?
The last thing we need to bust the myth on is a sand anchor. They definitely help keep that umbrella stuck in the sand, but most of us don't really need them. The winds that islanders experience are much more powerful than what we get here on the mainland. If you're lucky enough to live by an island beach, go ahead and get a wind anchor (they can be purchased separately from umbrellas!), but if you're bumming on a mainland beach, rest easy knowing your shade isn't about to blow away.
So you're probably overwhelmed and wondering how you're supposed to find the time to look for an umbrella that's this amazing, but don't worry! We've done our research, spent time using plenty of bad beach umbrellas, and now we're here to give you the best beach umbrella out there!
Our Story Behind the Best Beach Umbrella
Lets take a look at why beachBRELLA ® was created. Shelley Arends  founded beachBRELLA when she wanted to create the best beach umbrella possible while still maintaining her style.
Then the quest started to do the research and create the best beach umbrella. It was very important that the fabric was 100% UV. It was difficult to find, but she managed to do it. She then digitally created and printed her patterns onto the fabric. Next, she added fringe, not only to make it super chic, but also to help weight the umbrella down so that it stays in the sand better. Shelley also made them lightweight so they are easy to carry. Each beachBRELLA is only 5 pounds!
She created the bag wanting to make it durable enough to support whatever you throw in there with your Brella.. Shelley chose denim to create it, and paired it with a canvas strap.
Putting all the elements together was a challenge but then the manufacturing of the product was an even bigger challenge. Unfortunately, the first round of umbrellas she made in LA were way to expensive to ever produce. People would have to pay $400 an umbrella for the business to succeed. With the help of friends in the industry she was able to source a manufacturer overseas.
It was a big accomplishment to have the product made and shipped. The product finally came to US and went to market! Since it's start, the brand beachBRELLA® has become known as a solid, cute, functional, and easy to carry beach umbrella.
Where it All Began
She wanted something cute and yet functional. Originally, while raising her children, she went to the hardware store and bought an umbrella. She took it home, sewed some cute fabric and fringe on it, and headed to the beach. The advantage of Shelley having her own creative umbrella was that when her friends came to join her they could easily spot her on the beach. Another great advantage was that when her boys were swimming or body surfing in the ocean they could easily find their mom.
As the years went by Shelley's beach umbrella got a little tattered and old. She hopped on the Internet to look for a cute beach umbrella and realized that none existed. Sitting under her new umbrella many beach goers came up and asked where she had purchased her umbrella. She of course said she made it herself. But then a light came on! Why doesn't she make the perfect cute stylish unique beach umbrella company??