What is Organic Sunscreen?
This is a question that I have wondered for a long time. What is so great about organic sunscreen? What am I missing out on? Well in fact, I was missing out on a lot. Organic sunscreen is good for our skin and for the environment. Especially for someone who has sensitive skin like me, I must do everything necessary to make sure I am protecting myself against the uv rays.
Organic sunscreen is a great way to see what exactly you are putting on your skin and that it is not damaging the environment. Plus, there are so many different brands of sunscreen to choose one you are sure to find the perfect one for your skin!
Inside Organic Sunscreen
The main difference between the two is that organic sunscreen uses carbon- based chemicals. An example of these chemicals includes avobenzone. Chemicals like these ones are important in sunscreens because it helps diminish the impact of uv rays.
Other chemicals like titanium and zinc are considered "inorganic". These chemicals are not carbon based, meaning it does not block the uv rays as well compared to the other molecules. Make sure you are on the lookout for these chemicals when looking for sunscreen.
Marine Life vs Sunscreen
Under the sea, the coral reef system is extremely valuable. It houses most of the marine life underneath the waves and provide billions of dollars in economic and environmental services. In most recent years however, this reef system if facing serious threats including unsustainable fishing and climate change and part of the problem is sunscreen!
Scientist have found that they are finding chemicals that are also in sunscreen in the other that pose a threat to coral reefs. One of the most common chemicals that is continuing to damage the environment is oxybenzone.
Oxybenzone is one of the most harmful ingredients to the ocean, specifically coral reefs. This chemical is found in over 3,500 products worldwide. This product was either found in wastewater or directly swimming into the ocean without waiting for it to dry.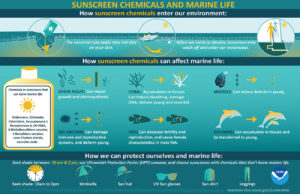 This process has also been known as coral bleaching and has become a serious problem in this ecosystem. There are some things you can do to protect your skin and the environment at the same time.
Seek shade between 10 am and 2 pm

This is an important part of protecting the environment because the uv rays are penetrating the atmosphere the highest around this time during the day. By doing this you can protect your skin and decrease the chances of skin cancer

Wearing UPF sunwear

Another extremely important way you can protect the environment is by wearing Ultraviolent Protection Factor sunwear. Some of these items include sunglasses, sun shirt, leggings, a sun hat and most importantly your beachBRELLA!
The Best Organic Sunscreens
Now that you know about what organic sunscreen is and how regular sunscreen can affect the environment. We have some recommendations on the best organic sunscreens this summer! From family friendly sunscreens to best for sensitive skin we got you covered! It's is important to find a sunscreen that you will love!
Best SPF Spray: Beautycounter Countersun Mineral Sunscreen Mist
Best for Outdoor Workouts: Badger Sport Sunscreen Cream
Best Sunscreen Stick: Supergoop! 100% Mineral Sunscreen Stick
Best Sunscreen for Darker Skintones: UNSUN Mineral Tinted Sunscreen
Best for Coverage: Drunk Elephant Umbra Tinte Physical Daily Defense Broad Spectrum Sunscreen
Best for the Whole Family: Erbaviva Baby Sunscreen
Best for Anti-Aging: CyberDERM Natural Simply Zinc Ultra Sun Whip
Best for Dry Skin: Love Sun Body 100% Natural Origin Mineral Sunscreen
Best Drugstore Find: Neutrogena Sheer Zinc Oxide Dry-Touch Sunscreen Lotion
Best for Sensitive Skin: Shiseido Ultimate Sun Protection Lion Broad Spectrum
Best Water-Resistant: Blue Lizard Australian Sunscreen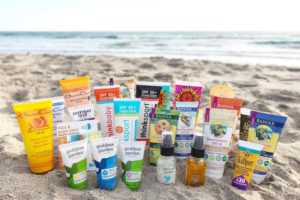 To look for more sunscreen click here!
Here at beachBRELLA®, we hope that you learned about how organic sunscreen affects your skin and the environment. It is important to take this information and apply it to your everyday lifestyle so you can keep your skin and environment safe.
You should use these useful tips before you head to the beach. Now the next time you go to the beach remember always wait and let your sunscreen dry before going into the water! Remember that we only have one world and we need to take care of it!