Cute beach outfits and summer are here! Time for cookouts, vacations, and long lazy days on the beach. When dressing for the beach you want to feel cute—but also be ready for the sun, heat, and salt water.




We're here to show you all the latest trends so you can build cute beach outfits for the summer from all the best online women's clothing boutiques. From floppy hats to the must have beach tote, here are all the tips you need to look your beach-bum best.
Cute Beach Outfits: Vibe Check!
So everyone is going to the beach….what's the vibe?? For outfit inspiration we've looked everywhere from the runway to the silver screen to find the best bathing suits and accessories. These cute beach outfits are sure to be a hit with everyone on your crew.
1.   Malibu Barbie
With the Barbie movie being released everyone's mind is on the color pink. And everyone knows pink is in style. In the words of Elle Woods "Whoever said orange is the new pink was seriously disturbed."
If you want to channel the classic American it-girl doll then hit the beach in an itty-bitty pink bikini. Maybe you'll find your Ken there catching some waves.
2.    In Your Sheer & Sophisticated Era
Runway looks have been obsessed with sheer detailing lately. Incorporating a sheer cover-up to your cute beach outfit is an excellent way to show your personality and embrace practicality. Also, they elevate a look in a sophisticated and sexy way. Sheer pants offer coverage and style.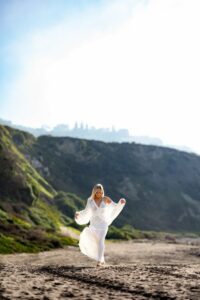 3.   Cause a Commotion in Cobalt Blue
From Alexander McQueen to David Koma and Richard Quinn, cobalt blue dominated the runway. A swimsuit in this shade could put the ocean's blue to shame. Why wear a neutral when you can stand-out?
Tips & Tricks
Going to the beach can mean battling with numerous elements. Sun, sand, water, and someone playing with a volleyball that somehow ends up right on your blanket. But just because the beach can present challenges does not mean that style has to be sacrificed!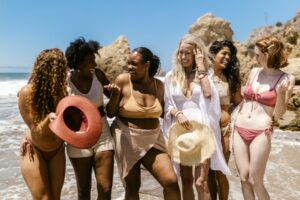 Here are some tips and tricks for having a flawless fashion moment at the beach.
1.   Go From Day to Night Instantly
So you've soaked up the sun but now it is time to go dancing. Don't want to deal with the hassle of a full outfit change from day to night? Just top off your look with a few accessories and you're ready to dance the night away! Layer flowy pants or a skirt over a trendy one-piece bathing suit. Finish off your cute beach outfit with simple gold jewelry, some sophisticated sandals, and your all-natural beachy hair and you are ready to go!
2.   Seek out Shade & Shades
Protecting your skin from the sun is a must. It's 2023 and we all know the importance of sunscreen. In addition to some SPF, be sure to pack a hat! We recommend opting for a big floppy one if you want to channel that oh-so European look. Pairing this with a classic pair of sunglasses will make you feel like you're lounging on the coast of Italy!
3.   Take a Tote!
You've got to get your towel, beach-read, sunscreen, snacks, water, and more to the beach. So take a tote bag! Totes are a functional and fun way to show off personality. Opt for a sturdy one with enough room for all of your beach day needs.
With just a few tips, and a little preparation, you can have a beach day that you'll remember far into the winter months.
Cute Beach Outfits is What Makes You Cute and Comfy
The number one tip we can offer is to just be you. In summer time there can be a toxic conversation around "beach bodies." Our number one tip to get a beach body? Just get your body on the beach! Pick out a bathing suit that makes you feel amazing, throw on some cute sunglasses, be sure to use your SPF, and get out there for some sun and fun!