It's getting hot out there! Summer accessories are esential. But, are you ready? If you're wondering what you need and where to start, this is just for you. Let's talk about gearing up for summer and 6 key accessories you need to shine like a diamond in the summer sun. I'll go beyond the standard sunglasses and flip-flops to show you some hot new trends for finishing your summer looks!
1.  Summer Accessories in the Bag!
This year's summer handbag is a showpiece, rocking all the fashion-forward fun you can handle. With natural fibers on tap, this year's chic handbags feature straw, feathers, and swishy fringe following key runway trends. Choose roomy totes or fetching woven straw bags to take you from the beach to a cold one on the boardwalk. And, don't forget to stow away a stylish weekender for your last-minute summer getaways! Oversized bags are (literally) hugethis year, so carry yours everywhere.
2.  "It" Girl Bikini
Equally as important for summer, the itsy bitsy, teeny weeny bikini has shrunk yet again! For 2023, this summer favorite accessory has been pared down to the barest essentials. So, be fearless, be bold, and embrace the microkini in all its barely there glory. But, embrace it with all 2023's trimmings for maximum impact. Look for metal rings standing in as straps, shimmery fabrics that catch the sun, and sequins that stop the show. This year's "it" girl bikini is as extraordinary as you are.
3.  Slinky, Sexy Body Jewelry
One of this year's most sultry jewelry trends is body jewelry. Further, runways are showing chain jewelry wrapped sinuously around the body over street clothes and swimsuits. Chain breastplates, simple chains embellished with charms encircling the waist, and chains that mimic the look of garters are all part of the trend. Imagine how much slinkier that itsy bitsy bikini will be when you adorn yourself with this 2023 trend! Or, wear full metal body jewelry over flowing chiffon on a hot night out in the city.
4.  Cowgirl Summer
Lil Nas X's outrageous red carpet looks have bled into the fashion world, with shades of Western Wear in cowboy boots and hats, liberal lashings of denim, leather fringe, and cowhide prints on the style agenda. So, consider a frayed pair of denim cutoffs worn with a denim corset. Top your look with a live-edge straw cowboy hat, finished with cowboy boots. But, don't settle for just any boots. This year, you'll see metallics everywhere and footwear is no exception. Your cowboy hat is the perfect beach, summer accessory, adding fashion savvy to your sun, sand, and surf look.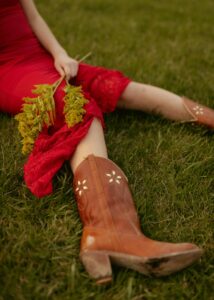 1.  Everything's Coming Up Corsages
Also, the corsage isn't just for prom anymore. This year, it's blooming on lapels in large format tulle and chiffon, on waists as delicately-wrought roses, in hair, on bags, shoes, and just about everywhere else. Go botanical with a frothy flower pinned to your straw cowboy hat or chic handbag. Or, pin your blooming corsage to the waistband of your shorts, signaling a summer accessory worthy of Carrie Bradshaw.
2.  Summer Accessories: Chunky and Funky
Again, another key jewelry trend this year is chunky, funky statement jewelry that makes itself known. Big bangles worn on both wrists or stacked on just one are the icons of this 2023 trend. But, don't rule out huge, chunky earrings set with massive faux stones or covered in sequins. Moreover, statement necklaces are big news, with links the size of a pinky finger and fist-sized "jewels" that bling up your look. Remember Coco Chanel's advice: Before leaving the house take a good look in the mirror. Then, remove one piece. Besides, statement jewelry is a focal point, not the whole style show. Don't let it overpower your look especially because it is perfect summer accessories.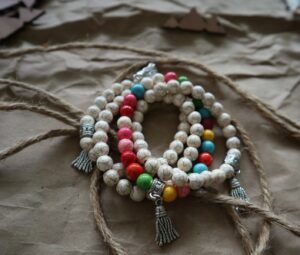 Make this summer one for the books with these 6 key summer accessories. Dabble, tinker, and play with 2023 fashion trends for the hottest summer ever!