5 Hair Care Essentials for Surfer Girlies
When you're out on your board and under the sun all day, the last thing on your mind should be – "how damaged is my hair getting from this?"
It feels like such an Elle Woods question, but the reality is that exposing our hair to extended periods of sun and seawater has a lasting impact on its overall health. And as my icon Fleabag once said 'Hair is everything.'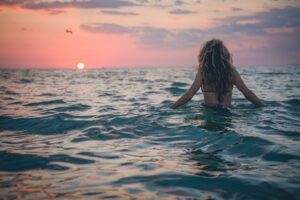 Maybe that's a bit dramatic, but here are my top picks for protecting your locks whilst you're out on the waves.
Wetbrush – Original Detangler
https://wetbrush.com/collections/the-original-detangler/products/original-detangler?variant=44555830395126
After a day of being tossed around in the swell, countless paddle-outs, and the occasional wipeout, your hair will be well and truly tangled. Most haircare enthusiasts will tell you that combing your hair when it's wet is a big no-no. Hair is at its weakest when wet, making it susceptible to breakage and split ends.
That's when I turn to my Wetbrush detangler. Its unique bristle design allows it to glide smoothly through my hair, effortlessly detailing stubborn knots without pulling or tugging. It's much gentler on my scalp and hair and a must-have in my beach bag. Remember to start brushing from the ends of your hair, not at the root.
Bumble and Bumble – Invisible Oil Primer for Hair Care
https://www.bumbleandbumble.com/product/19055/31247/style/pre-stylers/hairdressers-invisible-oil-primer
It's not just your skin that needs protection from harmful UV rays. Without delving too deeply into the science, UV exposure can reduce the amount of Keratin (protein) in our hair, resulting in dryness, a rougher texture, brittleness, and even bleaching. That's why it's crucial to incorporate a UV protectant into your surf prep routine to shield your mane.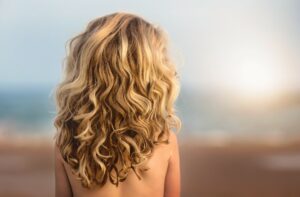 I swear by Bumble and bumble's primer for its incredible hydration, fizz reduction, and suitability for a variety of hair types. Every friend I've recommended this to has become a Bumble convert, so be sure to add this to your hair care regime.
Ouai – Leave in conditioner
https://theouai.com/collections/all/products/leave-in-conditioner
Now that we've covered what products to use before hitting the waves, let's talk about my hair saviors for after your surf session.
Being exposed to salt water for extended periods can leave your hair dried out and devoid of its natural moisture. If you haven't already, adding a leave-conditioner to your routine is the best way to infuse some much needed moisture back into your locks.
Ouai not only leaves my hair looking and feeling amazing but has everyone complimenting me on how good my hair smells when I use it. There's no gatekeeping here, I can't recommend this product enough.
Ouai – Hair Care Masque
https://theouai.com/products/fine-to-medium-hair-treatment-mask?_pos=1&_psq=mask&_ss=e&_v=1.0
Another absolute gem from Ouai's range to give your hair that extra TLC. It cannot be overstated how important replenishing  the moisture in your hair is the day after a day on your board.
This product is my go-to for self-care days when I need to decompress, recover and eat some good food whilst catching up on the latest Netflix series.
Satin scrunchies & Pillow cases
https://www.mykitsch.com/products/satin-pillowcase-ivory
Satin scrunchies are emblematic of the VSCO girl aesthetic, and for good reason.  They should be on the wrist of every surfer girlie for a quick no-fuss up-do when needed. The fibers we expose our hair to are just as important as the treatments. When it comes to the best material for hair protection, satin takes the top spot. Its silky surface minimizes damage from breakage by reducing friction.
If you can splurge on some satin pillowcases, not only will you feel like you're living a more luxurious life with minimal effort, your hair will thank you for it too. Satin acts as a barrier against moisture absorbing fabrics such as cotton, which helps prevent damage from hair drying out.
General Hair Care Tips:
Always wet your hair with fresh water first, before you get in the ocean.
Use UV protection in your hair and on your skin.
Always rinse your hair thoroughly as you get out of the ocean to remove as much salt as possible.
Use a wet brush or detangler when brushing your hair, especially if brushing when wet.
Avoid shampooing your hair everyday as it strips hair of its natural oils. Find a co wash that works well with your hair type.
Get regular hair trims to remove damaged and split ends and keep your hair healthier.
Avoid bleaching your hair blonde.
Speaking from personal experience, this one can be hard to follow. Many of us dream of the California surfer girl long blonde waves and the temptation to jumpstart the process in the salon can be hard to resist.
But don't give in! Your hair will be exposed to the elements like never before and bleaching will compound the damage.
If you really can't resist, opt for a balayage and discuss a grow-out plan with your stylist. Your hair will naturally lighten the more time you spend in the surf, so let the sun work its magic!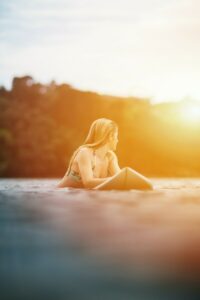 Meta description – Discover essential hair care tips and products to protect your locks while riding the waves. From detanglers to UV protectants, learn how to keep your surfer girl hair healthy and beautiful.
Written by Emma from noseridersurf.com.