Laguna Beach is a magical oasis with sunny skies, beautiful beaches, artists, surfers, and locally owned restaurants and shops. When visiting Laguna Beach it's easy to get stuck in Downtown Laguna following the crowds in and out of shops and restaurants, but there is so much more to Laguna than what's on the surface. Whether you're just passing through or spending a week, here are a few local hidden gems to explore while you're here.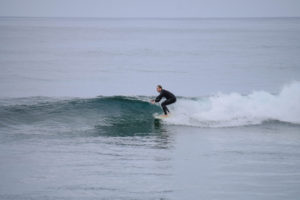 Thousand Steps Beach
Avoid the crowds at Main Beach in downtown Laguna and head to a more secluded beach in South Laguna. Enjoy the drive down PCH and the views of the rolling hills with the beach to your right.
Thousand Steps Beach is located right off PCH at the 9th Avenue intersection. Parking is tough to find, but believe me the destination is worth it. The beach is nestled between the cliffs and the ocean. When you reach the entrance all that stands between you and the warm sand is you guessed it, 1,000 steps.
The journey down is a breeze, it's coming back up that is the feat. In the morning hours the stairs are filled with joggers making their rounds up and down the stairs. If you're looking for a sweat feel free to join them, but after one trek up you might change your mind. Before you take your trip down, make sure you have everything you need. Going back up to your car to grab your trusty beach umbrella will definitely make you break a sweat.
Hike to Top of the World
If you're looking to adventure into the beautiful rolling hills that surround Laguna Beach,  there's no better place than Top of the World. The hike has easy, moderate, and difficult trails so pick your poison, grab your water bottle, sunglasses, and get hiking! As you make your way around the trails you'll always have a breathtaking view of the bright blue water.
Stop at The Shop
Laguna Beach is an incredible creative community filled with artists that paint, create clothes, and design beautiful beach lifestyle products. There are so many different shops in Laguna that it's often tough to find the right place for what you are looking for.
Located right off of PCH, The Shop is a good find that carries their own line as well as a collection of locally made products. They carry beauty and lifestyle items so if your feeling the strength of the sun stop in and grab a beach umbrella to shield you while you relax on the sand.
Head to Montage
The Montage Hotel in Laguna Beach is a must visit with its beautiful ocean view, mosaic pool, and spa. Whether or not you are guest, there are many amenities that can be enjoyed by the outside. Head there an hour before sunset and enjoy a walk down their paved path that overlooks the ocean. Make sure you have your wallet because you're bound to run into local artists selling incredible paintings. While walking the path take in the sunset and watch as other artists begin work painting the view out ahead.