Are you ready to take Halloween to a whole new level of spooky fun? With October right around the corner, it's time to start planning Halloween events. What better way to celebrate than with a fun-filled evening at the beach? Picture this: a Halloween beach party where the sound of crashing waves and a cackling bonfire mix with spooky music and eerie laughter from soundtracks. Where beach costumes run rampant in all their sandy and spectacular glory. Where a feast fit for ghouls and goblins await. If you're looking to step up your Halloween game this year and create a hauntingly memorable event. Keep reading to discover the best Halloween beach party ideas. 
Beach Costumes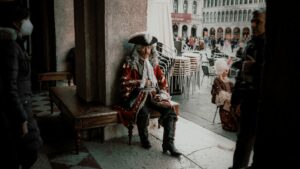 One of the main activities of Halloween is dressing up, and it's not just for kids but for adults, too. Since you'll be throwing a beach-themed Halloween party, choosing the right costume is important. Below are a few creative beach costumes perfect for a seaside celebration. 
Merpeople 
Transform into mythical sea creatures this Halloween season with shimmering scales, seashell accessories, and tridents. Draped in enchanting merpeople costumes, you'll feel like you've emerged from the depths of the ocean to join the festivities. These costumes capture the essence of the ocean, and you'll be sure to make a splash at your beachside party. 
Plus, you can pair your merperson costume with some subtle big BOO earrings for fun. 
Pirates
You'll be singing "It's a Pirate's Life for Me" and "Yo Ho, Ho" around the bonfire when you choose a pirate as your beach costume. Pirates are notorious for being out at sea. It would be feasible for them to wind up at a beachside shindig if given the opportunity, especially if there's free food involved. Give your pirate costume a true beach twist by wearing flip-flops or tropical shirts. 
Animals
There are plenty of beach-themed animals you can dress up as during your beach-themed Halloween party. You can channel the playful spirit of seagulls, wearing feathers over a chic orange swimsuit and a beak-shaped mask. Or you can scuttle around the sandy shores with oversized pincers and a shell-adorned outfit. If you want something more ethereal, opt for a starfish with flowing arms. 
Tropical Fruit
Beach costumes wouldn't be complete without tropical fruit-inspired outfits. As a pineapple, you can wear a spiky headpiece that exudes zesty charm. Or you can dress up as a coconut, complete with a straw hat to add a touch of island flair to your costume. 
Beach Decor
Once you have your costume picked out, the next step is to think about how you want to decorate your event. Halloween events should have an air of spookiness, but since you're at the beach, you also want an unmistakable beachside vibe, so getting the perfect blend is important.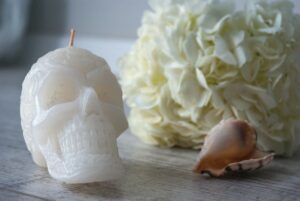 Consider these beach-inspired Halloween decoration ideas to complement your and your guests' beach costumes: 
Seashell and seaweed garlands:

Hang garlands made of seashells and artificial seaweed to create an eerie underwater effect. These garlands will bring about feelings of a mystical underwater realm while also casting haunting shadows when dim, flickering lights hit them just right.
Glow-in-the-dark beach balls:

Place glow-in-the-dark beach balls around your party area for a functional and stylish beachy feel. Toss them around as an activity or just admire their eerie glow from the side as you stand around in your

beach costume.

 Either way, they will add a touch of whimsical to your spooky beach party. 
Tiki torches with spooky accents:

Having the right lighting is essential to any event. For beach-themed parties in particular, it's fun to have tiki torches, and you can add spooky accents, such as fake cobwebs and witch hats, to give them a Halloween twist. 
Sandcastle centerpieces:

You're at the beach, so having sandcastles is a must. Create mini sandcastles as centerpieces and place tiny pumpkins or ghostly figurines around them for a spooky effect. 
Graveyard accents:

Allow your guests to walk through a fake graveyard scene in their

beach costumes

. Use driftwood to create tombstones and arrange them on the beach. Pair your graveyard accents with

light up glass pumpkins

for an even spookier vibe. 
The Ultimate Feast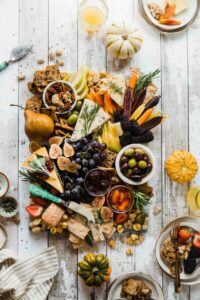 No beach party is complete without an amazing feast, served fresh on a beach-inspired table. At your Halloween beach party, you'll want food that's delicious and blends Halloween with your beach theme. 
Here are a few scrumptious feast ideas you can serve for your guests to enjoy as they party it up in their beach costumes: 
Seafood platters:

At the beach, it would be no surprise to guests if you served up some seafood platters. Put a haunting twist on them by adding Halloween-inspired names, such as Blood-Red Shrimp, Haunted Lobster Tails, and Eye of Oyster. 
Tropical drinks and mocktails:

Serve some Halloween-themed drinks and mocktails. Use red, green, and purple food colorings to give your drinks an eerie twist, or use decorative glasses that have fake eyeballs and bloodstains. 
Halloween-themed desserts:

What's a beach party without a bonfire? Roast marshmallows and make s'mores while sitting around the beach in your favorite

beach costumes

, sharing

ghost stories

and singing

Halloween tunes

.