A healthy easter basket is a great idea for your children. When you think of the Easter Bunny, images of marshmallow Peeps, jelly beans, and chocolate eggs fill your mind's eye. But what if you could make your Easter celebration just as healthy as it is sweet?
Research shows that Easter ranks second after Halloween for the amount of candy sold. For instance, candy manufacturers produce more than 16 billion sticky jelly beans in the US every Easter season.
However, you can create healthy Easter baskets of goodies that won't spike your or your kids' blood sugar levels. Here's a rundown of healthy Easter treats to surprise your loved ones!
1. Dark Chocolate Covered Strawberries a Great Healthy Easter Basket Treat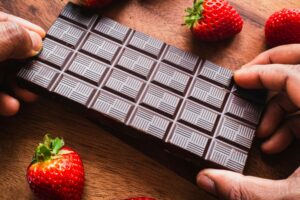 For a sweet and nutritious way to celebrate Easter, make homemade chocolate-covered strawberries with all-natural, dark chocolate. The higher the percentage of dark chocolate, the less sugar, and the healthier it is for you. Simply dip strawberries in melted dark chocolate and then place them on wax paper to dry.
Before they dry all the way, you can get creative with it! Decorate them with colorful sprinkles, white chocolate zig-zags, or edible gold glitter! Or, you can go all-out Easter-themed, decorating them like an Easter egg or adding bunny faces.
This can be a great craft to do with kids and an effortless way to create a naturally sweet treat.
2. Miracle Berries
If your Easter basket recipients aren't fans of tart strawberries or bitter chocolate, don't worry!
Add miracle berry products to the basket to make these two items sweeter than ever. The taste-modifying superfruit will trick their minds into perceiving sour or tart fruit, food, or drink as sweet. No added sweeteners, preservatives, or sugars! This means every recipient of your strawberry chocolate treat can healthily satisfy their sugar cravings.
3. Freeze-Dried Fruits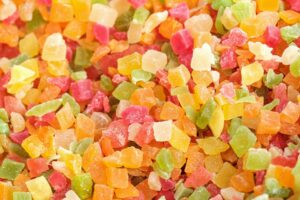 Don't forget to also add freeze-dried fruits to your children's Easter baskets. Your kids won't be able to get enough of these sweet treats. And they will taste just like their favorite fruity candies!
Since they're harvested in season before being freeze-dried, they often feature more nutrients than fresh fruits do. Plus, they are bursting with satisfying flavors. So, there's no need to sprinkle them with extra sugar to keep those taste buds happy.
Just make sure the freeze-dried fruits you add to the Easter baskets contain no added sugar! About 30 minutes after they're done snacking, encourage your kiddos to brush their pearly whites. This will help to remove the natural sugars from their teeth.
4. Shortbread Cookies Featuring Natural Ingredients
No healthy Easter basket would be complete without assorted cookies containing all-natural ingredients. Choose shortbread cookies that have been made with simple ingredients. You want to avoid any containing preservatives, genetically modified organisms, dyes, or flavors.
Your kids may enjoy indulging in shortbread flavors like dark chocolate and sea salt, caramel and milk chocolate, or toasted hazelnut. These cookies will taste as though they've come directly from a pâtisserie in France. Be sure to pick out individually wrapped ones to easily add to their Easter baskets.
Make Easter Sweet & Healthy This Year
It's not uncommon for kids — and adults — to experience a few sugar rushes during the Easter season. However, this year can be different. Say no to the chocolate bunnies, creme eggs, and peanut butter eggs.
Instead, add natural shortbread cookies, freeze-dried fruits, chocolate-covered strawberries, and miracle berries! These healthy treats will make your Easter basket just as tasty. Plus, you can stay on track to achieve your health goals and still celebrate Easter.