Easter is a beautiful pastel holiday filled with family, food, and candy.  With summer just around the corner it can be tough to keep yourself healthy when you have bowls of processed candy and chocolate staring you down from the other end of the table. Whether you're following a healthy diet for surfers or just eating clean, we've got your back! Try out these deliciously light and healthy Easter brunch recipes to keep you and your guests feeling satisfied! 
Caprese Salad with Fresh Veggies 
Nothing says fresh quite like a caprese salad and the best part is that it's simple to make. Grab your most decorative bowl and get chopping! 
The ingredient list is easy and very customizable. The main items you will need are grape tomatoes and fresh mozzarella, the rest is up to you.  
Ingredients: 
½ lb Red grape tomatoes (halved)
½ lb Mozzarella balls
1 Whole yellow bell pepper (sliced)
½ Medium cucumber (sliced)
2 Avocados (chopped)
½ Red Onion (diced)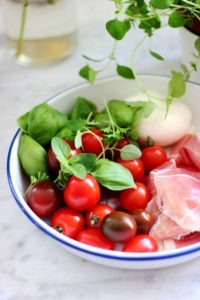 Once everything is prepped and ready, it's time to make some dressing! To keep the fresh taste, our recommended dressing is light, flavorful, and delicious! This easy to make Balsamic Pesto Dressing pairs well with everything on the ingredients list.  
To make the pesto you'll need: 
1 Packet of Basil Leaves
1 Tbsp of Walnuts (chopped)
1 1/2 Tbsp of Parmesan
2 tsp of Olive Oil
1 Tbsp of Balsamic Vinegar
1 Pinch of salt  
When the ingredients are ready, it's time to put it all in the food processor. Make sure to blend everything until it is finely chopped and mixed!  Next,  pour the dressing over the chopped ingredients you laid aside and get mixing! Once everything is mixed together then chill it. This can be made 3-4 hours ahead of your Easter brunch.
A vegan option
Every party needs a vegan option. Try out this Lentil Salad that is a great gluten free and paleo recipe! 
Ingredients
2 cups cooked lentils
1 cup grape tomatoes (halved)
½ red onion (diced)
¼ cup parsley (finely chopped)
¼ cup fresh mint (finely chopped)
1 cup cucumber (sliced)
1 lemon (juiced, zest) 
Cook the lentils and then add them to a bowl with the rest of the ingredients. Mix thoroughly to get the lemon and olive oil evenly spread throughout the dish. Grab some gluten free pita chips and crumble them over the top of the salad for extra crunch. Another option is to place the chips in a bowl off to the side to be used for dipping. 
Have a parfait bar
You can never go wrong with a parfait bar.  Yogurt is a nice sweet treat that both the kids and adults will enjoy!  
To start off the parfait bar it's always good to include a few yogurt options.  Greek yogurt is a safe bet, so include both plain and vanilla. Another great option is coconut yogurt, that way the guests that are vegan may enjoy as well! 
Don't forget the best part, the toppings. This is where you can add some bright colors to liven up your brunch spread.  For the first few bowls, grab some chopped colorful fruit. Dealers choice, but in season fruit is definitely recommended. Fill the remaining bowls with delicious add-ins such as almond butter, cacao nibs, agave, coconut flakes, or granola. These ingredients will make your parfait bar a great way to satisfy any sweet tooth.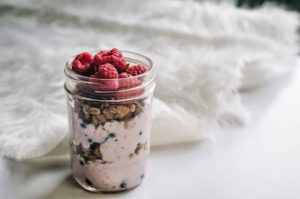 The final step is presentation. After all the food is prepped and ready to go, make sure they are displayed in your best bowls! Include cutlery and napkins on the table so they are easily visible by both kids and adults.  Lastly, grab a beautiful beach umbrella to shield the spread you spent hours making from the harsh sun! Have an amazing Easter brunch!!!