Whether you're a globetrotter, a weekend warrior, or a busy professional always on the go.Tthe perfect handbag can make or break your travel experience. In a world where fashion and function must coexist, finding the ideal travel companion can be a daunting task. Fear not, wanderlust-driven fashionistas! We have curated a list of handbag styles that blend style, practicality, and durability – everything you need for a seamless journey. Join us as we explore the best handbags for travel.
Crossbody Bags: Keep Your Hands Free: Handbag for Travel
Arguably the most convenient option for travel, crossbody bags allow you to keep your hands free while you explore new destinations. These bags feature a long, adjustable strap that can be worn across the body, ensuring ultimate comfort and security. Opt for a medium-sized bag with multiple compartments to keep your essentials organized and easily accessible. Choose materials like nylon or leather for a versatile and durable option that will be your best handbag for travel for years to come.
Travel Tip: Look for RFID-blocking technology to protect your sensitive information from electronic theft.
Backpacks: Carry the Weight on Your Shoulders
Backpacks have come a long way from their humble beginnings as utilitarian gear for hikers and students. Today, backpacks are available in a wide range of styles, sizes, and materials, catering to every aesthetic preference. A well-designed backpack evenly distributes weight across both shoulders. Thus,  making it one of the best handbags for travel if you'll be standing or walking for extended periods on your trip. For added convenience, opt for a convertible travel backpack that can be carried in more than one way!
Travel Tip: Choose a backpack with padded straps, a dedicated laptop compartment, and a water-resistant exterior to protect your belongings from unexpected weather conditions.
Tote Bags: Spacious and Stylish
It's no surprise that tote bags are one of the best handbags for travel. Whether you're going to the beach or the mountains, their generous size and versatile style make them the ultimate travel companion. A tote bag can effortlessly accommodate your essentials, including a laptop, a change of clothes, or even a few souvenirs. Opt for a tote with a zipper closure to keep your belongings secure, and consider materials like canvas or leather for a durable, stylish option.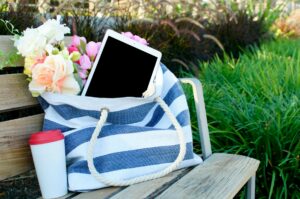 Travel Tip: Look for a tote bag with a removable crossbody strap to convert your tote into a hands-free carry option when needed.
Weekender Bags: Pack it All
For short trips and weekend getaways, a weekender bag is a perfect option! These spacious and cute travel bags offer ample room for clothing, toiletries, and other essentials without being overly bulky. Choose a high-quality weekender bag in a unique print or material to achieve a trendy vibe . This handbag for travel will be the best companion and a fashionable statement piece.
Travel Tip: Choose a weekender bag with a separate shoe compartment to keep your footwear organized and your clothes clean.
Anti-Theft Bags: Safety Meets Style, Perfect Handbag for Travel
Anti-theft bags are specifically designed to protect your belongings from pickpockets and thieves while traveling. These handbags for travel feature locking zippers, slash-resistant straps and body panels, and RFID-blocking technology. Available in a variety of styles, including crossbody bags, backpacks, and totes. Anti-theft bags are a must-have for travelers seeking peace of mind without sacrificing style.
Travel Tip: Choose a bag with discreet anti-theft features to maintain a fashionable appearance without drawing attention to its security elements.
Travel Wallets: Keep Your Essentials Safe
Though not a handbag per se, travel wallets are an indispensable accessory for any traveler. These wallets are designed to hold your passport, tickets, boarding passes, and other essential documents. Keeping them safe and organized. Many travel wallets also offer RFID-blocking technology for added security. Pair your travel wallet with any of the handbag styles mentioned above for a stress-free travel experience.
Travel Tip: Opt for a travel wallet with a detachable wristlet strap for hands-free carrying during airport check-ins and security lines.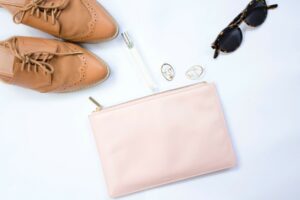 Jet Set in Style with a Travel-Friendly Handbag
Selecting the best handbags for travel is all about finding a style that caters to your individual needs while complementing your fashion sensibilities. From spacious totes to secure anti-theft bags, the options are endless. So, go ahead and choose a handbag that speaks to your wanderlust-driven soul. Embark on your next adventure with confidence, comfort, and style. Remember, the right handbag can make every journey a little more enjoyable and a lot more fashionable. Happy travels!