Beach Wear
Picking out your beach wear can be fun and challenging. If you're the type of person who would love to get soaked up in the sun and saltwater all day one thing's for sure: it's always a fun day at the beach! And do you know what makes it all better? That's right, the perfect beach wear to strut, flaunt, and take photos with!
You might be wondering, "what else would you wear at the beach than a swimsuit?" Well, yes, part of beaching is you get to wear a swimsuit. But then you'll just end up looking like the rest, which isn't such a bad thing! But, come on, wouldn't you want to stand out and post pictures on Instagram with the most trendy and stylish outfits? I'm pretty sure a lot of pretty beaches, like a beach resort in Batangas, offer amazing backdrops you wouldn't want to miss!
For your next beach trip, why don't you try wearing something more or over your swimsuit to make you feel more comfortable, stylish, confident, and ready for millions of pictures? Don't know what I'm talking about? Well, enough with the babbling. Here are a few trendy clothing items you should wear while beaching:
Beach Wear For Guys
Aside from the ladies, some guys would also love to wear trendy beach outfits. So let's start off with trendy clothing items guys should wear while beaching:
Muscle Tees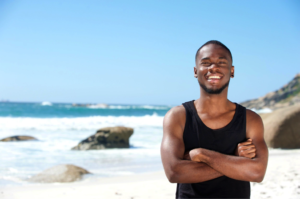 Muscle tees are perfect for beach days. It lets your skin breathe as you soak yourself up under the sun during the entire day. Sometimes, it's best paired with brown or white khaki shorts to make it look more beachy and relaxed. It's up to you whether you want to go for plain or patterned muscle tees!
But do note this: going for plain muscle tees mean you can opt for patterned khaki shorts while going for patterned muscle tees mean you need to pair it with plain khaki shorts.
Board Shorts or Swim Trunks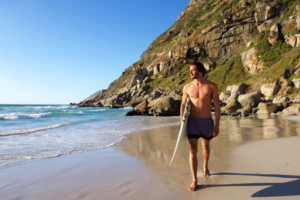 Have you been going to the gym lately? Why not show off those muscles by wearing just shorts? After all, you're at the beach anyway. Going for a bare-chested look is never a bad idea! You can choose from a wide range of beach shorts, whether plain, colored, patterned, or printed! Wearing just shorts is also perfect if you're trying to get a tan during your entire stay at the beach.
Polos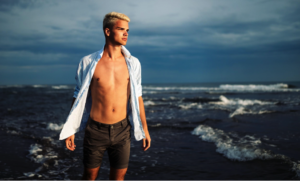 Trendy printed polos are what's currently in nowadays. You can either wear this buttoned up or buttoned down, your call! Although printed polos are a big hit today, you can always opt for plain white ones, which are definitely a classic. Your choice whether or not to go for long-sleeved polos or short-sleeved ones because both look so good on photos, especially when at the beach!
Beach Wear For Girls
Now onto the next, which is for the ladies! Here are a few trendy clothing items girls should wear while beaching:
Sundresses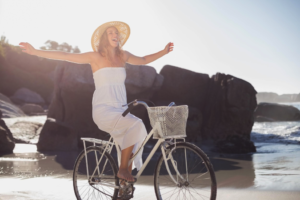 Sundresses can never go out of style! Aside from being a comfortable and go-to piece, it has so much styles ranging from tube sundresses to sleeveless ones, spaghetti-strapped sundresses to off-shoulder ones and a whole lot more! Sundresses are known for being so flowy, which makes it easy for women to move in and provides a lot of comfort and breeziness.
High-Waist Shorts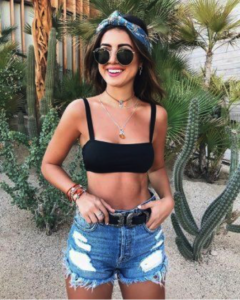 Wearing a bikini but planning to stroll along the beach first? Or maybe you'd want to have your pictures taken first before thoroughly soaking yourself up in the water? Don't worry, high-waisted shorts are your best friend!
Wearing high-waisted shorts on top of your bikini is one of most women's go-to beach outfit! For some, they'd like to pair it with scarves as ponytails or headbands as accessories. Maybe you could also try bringing in a straw or rattan bag to complete the whole laid-back beach outfit!
Denim Skirt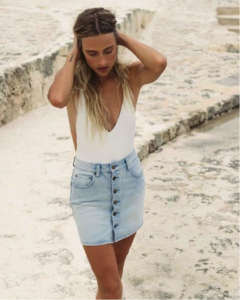 Make things easier and a little bit more girly by wearing a denim skirt on top of a one-piece swimsuit! This whole outfit is perfect for when you want to dine at a nearby restaurant or have a wine [day] drinking session with your friends. Plus, you can never go wrong with a denim piece. Try to finish the whole look with maybe a pair of white or beige sandals for a chicer beachy look!
Flowy Skirts or Lightweight Pants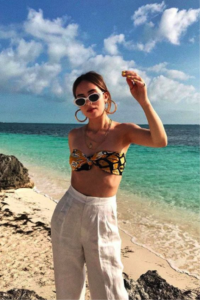 Just like the high-waisted shorts, you can wear either flowy maxi skirts or trousers on top of your bikini for days when you don't want to expose too much skin and just really want to take good Instagram-worthy photos. You may pair these up with a cute pair of sandals or slides to finish off the look.
Sarongs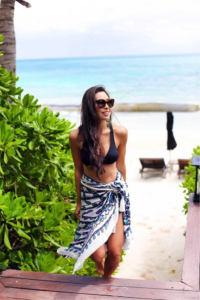 Sarongs are initially made for the beach. So, maybe you could pair a cute printed sarong with a crop top, or could also be your bikini top! Aside from being trendy and cute, sarongs are also very easy to adjust to your liking. Who wouldn't want to wear comfort and fashion at the same time, right?
Oversized Polos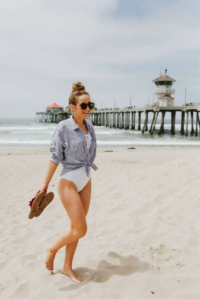 Oversized polos are a perfect coverup for when you're lounging by the beach before or after swimming. Also, it's ideal for photos! Most women today opt for oversized polos that are either plain white or blue as well as striped blue and white ones. Try tying up a knot for a more retro look, and to show more of your one-piece swimsuit underneath.
Activewear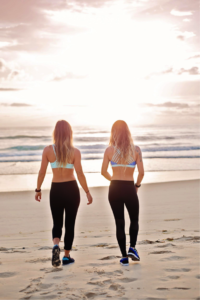 Planning to go on a morning jog at the beach? Go ahead! Just make sure to pack appropriate activewear, to which you can move easily and do sports activities. Women who workout at the beach usually bring in a pair of tights, running shorts, sports bra, and a couple of rubber shoes!
Swimsuits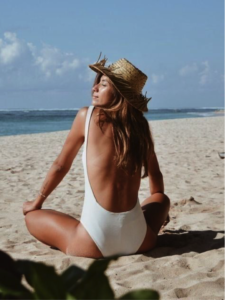 Need I say more? Swimsuits are a definite must-have and a timeless piece! In fact, swimsuits can also be for regular casual days since you can pair it up with almost everything! You can never go wrong with swimsuits. To say the least, beaches wouldn't be as fun and memorable without your trusty pieces of swimwear! You can also pair your bathing suit with a nice pair of sunglasses.
Wrapping Up
A day at the beach is always a fun day. With all these trendy clothing items mentioned above, your beach trip can get even more exciting, and not to mention, stylish! Next time you go to the beach, remember to keep these things in mind, take your best shot, and post it online for all your friends to see!
Author's Bio: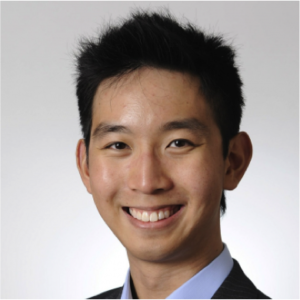 Angelo Castelda works as a contributor for a news magazine in Asia. He loves to learn and understand diverse cultures and aims to share through his writing his experiences around the world.