Have you ever wondered how people get that perfect tan? Here are some tanning tips for you.  When tanning, people often forget there are 5 things in particular that are an absolute must to take along with you. Whether you're going alone or not, and whether it's on a sandy beach, the pool, on a balcony, or anywhere else – this list is definitely relevant for you. The items listed here will help you achieve that perfect, safe and enjoyable day in the sun.
Tanning Tip #1 Sunscreen
There is some debate on what is the best time to tan outside both safely and effectively. It's important to not stay in the sun during peak hours (11am – 2pm) for too long even when tanning. Since the UV rays are at their strongest, you're more likely to burn than brown, and just end up causing damage in the long run.
So, it's even more important to protect yourself with SPF 50 and reapply every two hours. It can make for a deeper and longer-lasting tan as well. This is a tanning tip that no one thinks about.
The reason you can still get a tan even while wearing sunscreen is because when wearing SPF 50, for example, 2% of UVB rays are still able to enter your skin. It may not seem like much, but trust me, it is enough. Small amounts of unprotected sun exposure do add up over time and cause damage such as burns, wrinkles, age spots, and even cancer. In all truth, we should be wearing sunscreen at all times and not just when tanning.
Tanning Tip #2 Umbrella
Seeing as it's not necessary to be in direct sunlight to get a tan, taking an umbrella is an excellent idea. It only matters that UV light is being reflected onto you from your surroundings for your skin to absorb.
Many tanners choose not to bathe under an umbrella out of fear of blocking the sun, but it's not really possible to not get tanned. A U.S. study was published in JAMA Dermatology (UV Radiation Protection by Handheld Umbrellas, Josette R. McMichael, et al.) that showed umbrellas can block anywhere between 77% and 99% of UV rays depending on the color and type.
So, don't worry about an umbrella getting in the way of your tanning completely.
While most umbrellas offer good protection BEACHbrella take that to another level with 100% protection which make their umbrellas ideal if you want complete and utter protection. They have a great selection of umbrellas, and every single one has a gorgeous design; there's no such thing as basic from them.
Tanning Tip #3 Coconut Oil
Surprisingly, this isn't for your skin. It's actually for your hair; many of us tanners forget about our hair and scalp when sunbathing and this is an unfortunate mistake. But don't worry, coconut oil can save the day.
By covering your hair up with coconut oil before heading to the beach, you basically lock in all that much needed moisture and prevent it from drying out.
Coconut oil alone has a small amount of natural SPF, so you also protect your hair from any sun damage.
It also has additional benefits, such as hair loss prevention, dandruff treatment, and lice prevention thanks to its antimicrobial properties.



Tanning Tip #4 Sunglasses
Another tanning tip is an absolute must to protect are your eyes. Double check that you have a pair of sunglasses with you so that nothing can disturb or ruin your tanning sesh!
Always check that your sunglasses have a label that states they protect against 99-100% of UV-A and UV-B, or UV absorption up to 400nm.
Damage to eyes, just like the skin, is cumulative, so it's important to be consistent. They should have a dark lens; the tint isn't important as long as it has a UV coating.
Even when it's cloudy out, ultraviolet light can still penetrate and anyone who takes birth control pills, water pills, certain medication, or had their cataracts removed, are at an even higher risk of eye damage from UV rays.
Tanning Tip #5 Book
A bit of entertainment is always a good idea. Whether you prefer reading books, magazines, newspapers, or listening to music – it can only enrich your tanning experience. This also makes you lay still creating another tanning tip.
Personally, I always take a book with me, especially to the beach because the setting makes the reading itself much more enjoyable.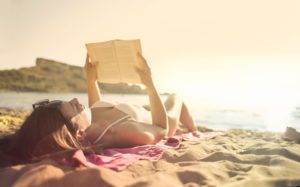 Hope you enjoyed our unusual but useful tanning tips.