How to Keep Your Skin Glowing This Summer
Are you ready for summer? While taking care of your skin year round is important, we often take more precaution in the hot summer months. The sun's strong UV rays are the main culprit for aging skin. Yet, staying out of the sun can be a challenge when you live near the beach. This summer, a good place to start is by aiming to cut down your sun exposure in half. In addition to staying out of the sun, a daily skin care routine of cleansing, moisturizing, hydrating, and eating the right nutrition will also enhance healthy, glowing skin. With summertime just around the corner, take a look at a few skin care tips below to make sure that you're doing all you can to keep your skin from premature aging.
Get Shade and Style with a Beach Umbrella
One of the best ways to protect your skin from harmful UV rays is staying out of the sun as much as you can. A beautiful and unique beach umbrella will shield your skin, as well as stand out as a fun, stylish beach accessory. Beach umbrellas are easy to carry and set up, and provide complete protection from UV rays. Whether you're watching your kids surf, having a picnic at the beach, or reading and relaxing, beach umbrellas keep you cool and protect your skin.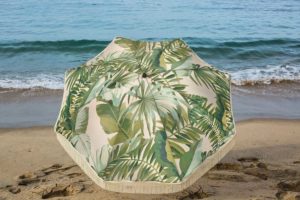 Remember to Reapply Sunscreen  
We all know that we should wear sunscreen, but how often do we reapply it? Even if you're not going to the beach sunscreen should be worn every day. The sun follows us everywhere from the car, to walking down the street, to sitting near a window. If you tend to forget to apply sunscreen, using a foundation that includes SPF 30 is a good idea. And when you're having a beach or pool day, don't forget to reapply every half-hour to an hour to avoid getting a sunburn.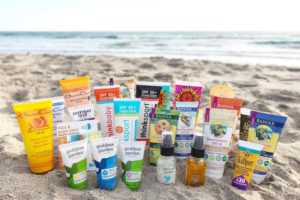 Achieve Healthy Skin from the Inside Out  
Did you know that you can eat your way to healthy skin? Foods that are high in antioxidants and have anti-inflammatory properties are the best options. Antioxidants help fight free radical damage that is caused by the sun and works to protect the cells, especially skin cells. Incorporate these superfoods into your daily diet for healthy skin: blueberries, raspberries, Indian gooseberries, avocado, wild salmon (or a fish oil supplement), garlic and cocoa.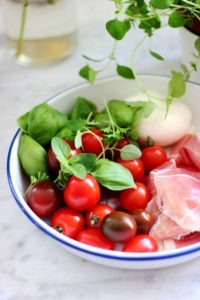 Exfoliate Dead Skin with a Hydrating Scrub
Is your skin looking tired, dull and dry? One of the best ways to reduce fine wrinkles and enhance your skin's vibrancy is by exfoliating with a sugar or salt scrub. Using a scrub washes away dead skin cells and speeds up your skin's rejuvenation process. Scrubs also hydrate which makes your skin more soft and smooth.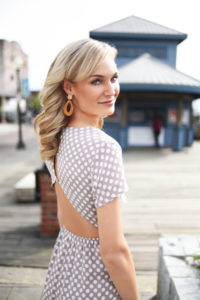 Keep Your Skin Hydrated with a Daily Skin Care Regime
If you don't have a daily routine of washing your face in the morning and evening, there's no better time to start than now. Using a gentle face wash, toner, and moisturizer will help keep your skin looking fresh and encourages the renewal process of your skin cells. Using a spray toner throughout the day, especially when out in the sun, is a great way to keep your skin hydrated.
When it comes to moisturizing your body a fantastic alternative to lotion is natural oils. If you're looking for a more organic approach, natural oils will soothe and hydrate your skin. They don't contain fragrances and chemicals that many lotions have, which is a bonus for those with sensitive skin. A few examples of these hydrating oils are:
Coconut oil
Grapeseed oil
Jojoba oil
Avocado oil
Sweet almond oil
Carrot seed oil
Drink Enough Water
Drinking 8-ounce glasses of water a day is the standard recommendation. This is because our bodies are made up of up to 60% water. Water is necessary for many functions of our internal organs, as well as the largest organ outside our body: our skin. Keeping yourself hydrated will not only aid digestion, weight management, and much more, but it also helps your skin stay hydrated as well.
Get the Beauty Sleep You Deserve
Getting more than 6 hours of sleep at night has its benefits, including helping your skin regenerate. Did you know that your skin makes collagen when you sleep? That's why making sure that you get enough rest at night is important. It can help slow down the appearance of premature wrinkles. Other benefits of getting 7-9 hours of sleep at night include having less risk of a heart attack, fighting off infections, and improving your overall emotional and physical health. But let's be honest, who's really against getting more beauty sleep at night?
If you want the optimal skin care, follow these top anti-aging tips for a happier, healthier you.