Farmers markets that provide fresh, local products all summer long! Do you want groceries without pesticides and more bang for your buck? Here are some of the most popular farmers markets in Orange County:
Irvine Farmers Markets
Shoppers can find fresh fruits and vegetables every Sunday at the Irvine Farmers Market. This market is located at Great Park Farm from 10 am to 2 pm. It provides excellent tips from gardeners in the Division of Agriculture and Natural Resources at the University of California.
Orange Home Grown Farmers & Artisanal Market
Chapman University hosts this extensive market! Every Saturday from 9 am to 1 pm this market will operate rain or shine! Additionally, there are yoga classes, cooking classes, and a dog sitting area. Not to mention the live music and kids club to make this market a full family affair!
SOCO Farmers Market
On the coast, Costa Mesa's "SOCO" market provides a large inventory of produce every Saturday from 9 am to 2 pm! Not only are there uncommon fruits and farm-fresh vegetables, but shoppers can also find unique items like fresh bread, hummus, and pupusas! Furthermore, the crafts in KidsZone can easily make this market a full family event!
San Clemente Farmers Markets
Further down the coast, the San Clemente farmers market takes place every Sunday from 9 am to 1 pm! Here shoppers can enjoy fruits and veggies from local, organic farmers. Many people walk or bike up to this market to find beautiful flowers, bread, honey, and other pre-made items. Be sure to check out this location!
Laguna Niguel Farmers Market
Every Sunday from 8 am to 12 pm shoppers can attend the Laguna Niguel's farmers market. This particular market provides organic juice and kombucha. Also other items include raw pet food, tropical plants, and much more. Other stands there have essential oils, natural baked goods, and spice blends.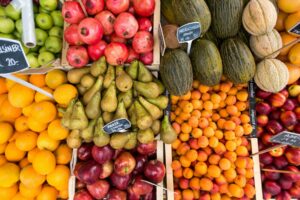 Be sure to check out these farmers markets! Shopping here can not only help local farmers but also the overall environment! A perfect way to have a healthy diet and lifestyle.