Packing for the Beach
Packing for the beach can be essential to having a great beach day. Your bag is all packed and you're ready to go. You and your best friend are heading to the beach. But wait… just when you thought you packed everything, you realized you totally forgot that one beach day essential. Nothing ruins your perfect beach day like forgetting sunglasses, extra sunscreen, or worst of all—your umbrella. Even on your beach vacations always check this list before packing for the beach so you can make sure you absolutely don't forget a single thing!
 1.Sunscreen

Did you know that most visible side effects of aging like, wrinkles, sallow skin, and fine lines are caused by sun damage?  Regular doses of sun can have amazing and positive side effects to your overall health. However, if you do plan on being out in the sun all day, putting on an organic sunscreen is a must.  Remember to reapply every couple of hours to make sure you're protected from potential sun damage from getting burnt.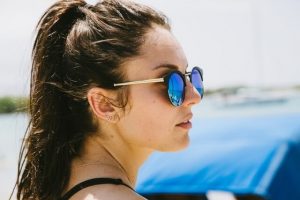 2. Cute Sunglasses

No outfit is complete without the perfect pair of sunglasses. Yes, even the chicest women's tankini swimwear isn't a complete look until you add some fun shades to the mix. Don't forget your shades, always keep a spare in your beach bag. Sunglasses do more than just complete your look. They can also protect your eyes against the sun and its damaging UV rays.
3. A Beach Umbrella

Of course, the whole purpose of coming to the beach is to get some sun. But if you want to stay at the beach for longer than 20 minutes, you're definitely going to want to bring a beach umbrella. Having a beach umbrella with you is an easy way to find some brief relief from the sun's rays. With a beach umbrella, you don't have to pack it all up and head home the moment you start to get hot. Relax under your 100 UV protection umbrella and enjoy your beach for a few more hours.
4. The Perfect Bag

You can't be expected to carry all of these things without the perfect bag. A great beach tote should be able to hold your sunnies, sunscreen, your towel, books and magazines, a spare outfit, and more. The purpose of these tote bags is to be able to bring everything from your car to the beach in one trip. You might consider a mesh bag. This would allow any sand that you acquire in it to drain right out.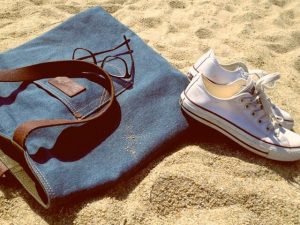 5. Beach Towel or Beach Blanket

This probably seems like a given but you'd be surprised at how often and how easy it is to forget your beach towel. Look for something in a bright, fabulous color scheme so it's easy to spot from afar. Plus, a fun beach towel along with a fun fringe beach umbrella can be the perfect ice breaker for conversation with that cutie you've had your eye on. With the right tote bag, you can easily fit your towel in so you'll never forget it again.
6. Water

Water everywhere but not a drop to drink. Surprisingly, laying out and doing nothing can make you pretty thirsty. Don't forget your water bottle before hitting the beach. Staying hydrated while laying out or playing a game of beach volleyball will keep you from fainting or feeling ill from sun poisoning. Also, drinking lots of water is just good for your health in general. Skip the store-bought plastic water bottles and fill that reusable water bottle up and toss it in your bag.
Packing for the beach and planning your perfect beach day is easy when you know exactly what to bring. Your trip to the beach with this list of beach day essentials, will surely make for a great time. From a beach umbrella to cover ups and everything in between, you're guaranteed to have a great time every time you decide to soak up the sun, sand, and surf. Have a beachin' day!
7. Fiip Flops
Also when heading to the beach a cute pair of flip flops or beach sandles is a good idea. This not only protects your feet from the hot sand but can be another great accessory item. Match them to your bikini so you look nice and stylish heading down to the beach. Another great alternative to flip flops is maybe a pair of water shoes. They are not quite as attractive but are super functional. They will not only keep you from burning your feet,  and having to use a first aid kit (lol), but will help if you go swimming. You won't step on any sharp objects.