Looking to make your Valentine's Day special? No matter what stage in your relationship, celebrate this February 14th with the perfect date for you and your significant other by planning a romantic Valentine's Day picnic. For those lucky enough to be in the warmer climates, here are a few tips and tricks to making your Valentine's Day unforgettable.
Scout a Spot
The easiest way to start planning your Valentine's picnic for two is by keeping an eye out for the perfect spot. Whether it is in a park or at the beach, picking out the right spot is an important component to having a successful picnic. You want to make sure it's somewhere a little private and preferably flat so your meal doesn't go rolling!
Once you have your spot, make sure to visit it the day before. Visiting the spot the day before allows you to get a clearer image of your plan and it's a good way to know if the area is damp or riddled with any pests like bees or flies. That way you can arrive prepared or have time to pick another spot.

Pick the blanket
Every picnic needs a good blanket! When picking yours make sure to look out for the overall size as well as the thickness of the material. Having a picnic on a small blanket is not ideal, so make sure you have enough space to spread out the food and still have room to comfortably sit.
A thick blanket is a must that way the wetness of the mud or the heat from the sand doesn't make it through. Life hack: bring a tarp or shower curtain to place underneath the blanket to really separate yourself from what's underneath you. To add some Valentine feels, choose a blanket that matches the occasion to amp up the overall romantic look.
Make a List
When February 14th arrives, a great way to make sure you have everything prepared is by making a list ahead of time. That way when you are packing up the car you don't leave anything important out, like the silverware or napkins.
Trays are your Friend
Sand and grass can be very uneven and often unsteady, bringing trays to place your food and drinks on can be very helpful. That way nothing tips over and ruins the blanket that you worked so hard to pick out.
Using trays can also be an easy way of making the picnic look more put together. Pick out a few aesthetically pleasing trays whether they are clear or a color that matches the blanket to really make your picnic special.
Create Some Shade
Don't let the moment be ruined by the harsh sun. A great way to make shade in an open space is by using a beach umbrella. Stick it in the grass or the sand to hide from the sun and create a little privacy for you and your Valentine.
Bring the Right Beverages
For those of age, a bottle of wine can be a nice touch to any picnic, but make sure you have water on hand. Sparkling cider is a great alternative beverage that everyone can enjoy. For those wine drinkers, don't forget the bottle opener!
Decide on Food
What's a Valentine's Day picnic without food? Whether you decide to make something yourself or pick up takeout, make sure it fits the situation. No one wants to eat messy barbecue ribs at a Valentinte's Day picnic. The mess will overwhelm the situation and you will run out of napkins fast! A few go-tos are sandwiches, salads, or pasta. If you make the food yourself make sure you individually wrap the food so it survives the travel without turning to mush. Last but not least, don't forget to bring dessert.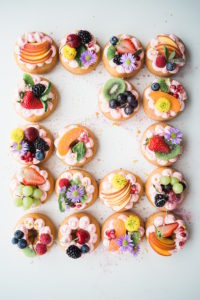 Looking for other ways to spend your Valentine's Day? Check out these hidden gems in Laguna Beach waiting to be explore by you and your valentine.