What is Dog Surfing?
Dog surfing is just what is sounds like dogs on surfboards! Dogs are known to surf on not only surfboards but also bodyboards, skimboards and even body surfing. Because it has become so popular of a sport competitions have emerged.  Also dogs have been seen countless times sitting with their master on a paddle board.
History
There has been documentation as early as the 1920's of dogs surfing in California and Hawaii. There was a film in the 1930's called On The Wave in Waikiki and shows a surfer surfing in Hawaii with his terrier, Night Hawk. In which the  surfing dog even preformed the "hang ten."
In 1944 the National Geographic Magazine published a dog named Rusty surfing. From the 1950's to the 1980's there were television shows that depicted dogs surfing. Dave Chalmers and his surfing terrier mix were featured in lots of media. One was You Asked For It! And another was Amazing Animals.
Competitions
Currently there are lots of canine surf competitions. And the judging criteria and be based on the dogs confidence, the size of the board, and wave size and length. Needless to say categories had to be developed. Categories such as, the size of the dog and single or tandem surfing. Tandem surfing can be two dogs or a person and a dog.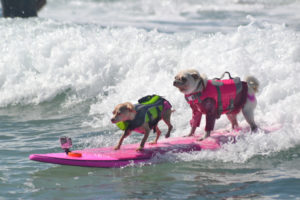 So the first competition was held in 2006 at Loews Coronado Bay Resort at Imperial Beach California. It is considered the largest competition in the U.S. In 2011 over 50 canines participated! It is also a fundraiser for the San Diego Humane Society.
Huntington Beach, California also has an annual surfing contest called "Surf City Surf Dog Competition." The first occurred in October 2009 and is now an annual free contest to attend usually in late September.
San Diego, California also has the Incredible Dog Challenge. Which started in 2012 and is an annual event.
The Noosa Festival of Surfing, which is held each March, has put a twist into the canine surf world. So this event is where dogs and humans work together on stand up paddle boards (SUPs). The prize is chosen by surfing legends and given to the dog/person combination that catches the best wave.
Lets not forget about The Big Dog Ranch Rescue in Wellington, Florida. They presented their first "Surfs Up, Dogs" competition in July 2013. This is also a fundraiser for the non-profit organization. It was held in Jupiter, Florida.
Fun and Entertaining
Therefore,some of these dogs have become quite famous. Abbie Girl is an Australian Kelpie that has medaled in every surf competition that she has entered. Because of this she has even been inducted into the International Surf Dog Walk of Fame at the Huntington Beach Surf Museum.
Some of the dogs have developed a style of their own. One such dog is Derby a Goldendoodle who along with his owner are famous for matching punk-rock Mohawks. Which Derby rocks in a striking shade of blue with a matching pair of stylish sunglasses. Derby won the large dog division and the tandem in the 2018 World Dog Surfing Championships.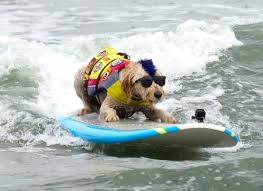 As a result, these events can be a fun day at the beach. As always, we are incorporating out beach lifestyle in an amusing and entertaining way. So if you ever get a chance to go out and cheer on our canine surfers…. Do it for sure!